A well-dressed bed is synonymous with elegance and good rest. Here are the keys to buying the best bed sheets for you and some tips to keep them looking as good as the first day.
1. Breathability, absorption and moisture evaporation
These properties are what make good quality bedding so comfortable.
2. What is the best yarn?
Carded and combed cotton. In the latter, the fibers resulting from the carding go through a second, finer process, the combing machine, where the impurities are removed. They are softer, have more volume, natural shine and last much longer.
3. What is the difference between a percale fabric and a satin fabric?
The difference is in the structure of the weave. It is determined by the way the threads are interwoven across the width and length of the loom. In both cases, they should ideally be 100% combed cotton. Percale has a neutral, "cottony" feel and is somewhat brighter, but satin sheets and duvet covers are softer.
4. White or printed sheets?
A white cotton fabric is better than a dyed or printed fabric, since it preserves the organic and natural properties of the cotton fiber practically unaltered. The production process is shorter, simpler and more environmentally friendly, as it only requires minimal scouring and bleaching.
5. Yarns, fibers and fabrics
Sheets between 200 and 400 threads per inch are the softest and most durable. Below 200 threads are more economical, but of lower quality. In bed linen, the best material is cotton. Mixed with polyester, it does not wrinkle as much, but it is better if the polyester does not exceed 50% of the fabric so that it does not lose softness.
6. Raw material
The type of material you choose for your sheets has to do with your personal preferences. Think about this: you will be on them for eight hours a day. Egyptian cotton, Pima cotton, linen, percale, microfiber? We give you the keys to each of these materials below in the article.
7. Design
The style of the bedroom will largely depend on its appearance, so it is important to take care of its design. It is advisable to choose a small-medium mix of the same color family, depending on the impact you want.
8. How many sets of sheets do you need?
And also, how often do you want to change them? At least a couple of sets for spring-summer and a couple more for fall-winter. Change them weekly and while one set is washing and drying, put on the other set. If you are looking for less wear and tear, have at least three sets of sheets for each season (single sheets and comforter sets).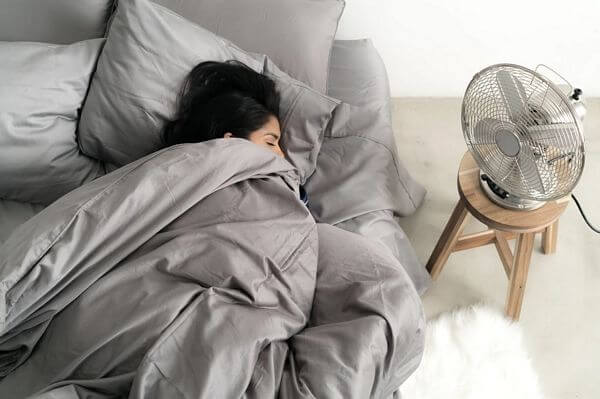 More About Material
The material of manufacture is key. Choose natural fabrics for the bedding set, such as linen and cotton, as they will provide naturalness and style to your bedroom. Don't worry about wrinkles in linen sheets or duvet covers: they will add a richness of texture if they are natural. In the case of cotton pieces, iron them well. Do this when the sheet is still a little damp: the wrinkles from folding will disappear better. Combine both fabrics in cushions and pillows.
Materials: who's who
Cotton: The best quality (and most expensive) is 100% Egyptian, which has extra-long and durable fibers.
Pima or Supima cotton: A medium to extra-long staple fiber material, known for its softness and luster, and is slightly more affordable than Egyptian cotton.
Linen: Ideal for warm climates, linen sheets are some of the most expensive, but will last you decades.
Synthetic: Inexpensive and wrinkle-resistant.
Percale is a lightweight, tight, very cool fabric, while the super-tight, dense microfiber weave makes it wrinkle-resistant, extra-soft and water-resistant.
Other fabrics: satin, ultra-soft and shiny, and flannel, with a honeycomb texture perfect for colder climates.
What should i look for when buying bedding?
There is a belief that the more yarns a sheet has in its weave, the better the quality. But this is not always the case. When we buy bed sheets, the first thing we have to look at is its fiber composition.
Most sheets are made of cotton, but we should look for a longer fiber, as spinning gives them strength, which means less carding. Egyptian cotton, for example, has a long fiber. Other good quality fiber options are pima and supima cotton, cotton-polyester and even bamboo.
Sheet fabric affects feel, appearance, longevity and price. There are many types of fabrics, but percale is the most prominent, according to some experts. It is a balanced weave, like a basket weave, and gives a fresh feel. Satin, on the other hand, is a little softer and warmer than percale.
Even if a sheet has more threads, the figure can be inflated by manipulating the manufacturing process with a low-quality thread. As a general rule, it is best to buy sheets with a minimum thread count of 200 threads. Above 800, the quantity does not matter.
The quality of a fabric is directly related to both the quality of the yarn and the density of the fabric, which is the number of threads to the width and length of the fabric. The quality of the bed sheets will be higher, the higher the thread count of the fabric, although as mentioned at the beginning, it is not the only factor. The quality of the yarn, the manufacturing processes, etc. are also important.
Internationally, the density of a fabric is defined by the number of threads in the width and length of the fabric in one square inch. Fabrics with a density of 180 threads or more (per square inch) are considered superior fabrics. As for finishing, most sheets are finished with chemical processes to prevent wrinkling and shrinkage. While it's fine for sheets to be wrinkle-free, try to look for organic cotton ones, free of chemical compounds.
Size matters
The size of sheets, pillows, duvet covers, quilts or comforters matters. Pieces that are too small will dull and cause unnatural wrinkles; those that are too large will produce a feeling of dullness.
If your mattress is 150 x 200 cm: choose a 240 x 280 cm top sheet, a 240 x 260 cm duvet cover and a 240 x 260 cm quilt or comforter.
If your mattress is 180 cm wide: the top sheet should be 270 x 280 cm, the duvet cover 260 x 270 cm and a quilt or comforter 260 x 270 cm. In the case of fitted sheets, it will also depend on the height of the mattress.