Finally leggings that do it all! They are the best leggings because of these amazing features:
High Waisted
Zoned Compression
Four-way Stretch
Breathable & Sweat-wicking
Anti-bacterial
Deep Side Pockets
They are the best because they are:
1. High waisted and designed with compression to keep you feeling secure.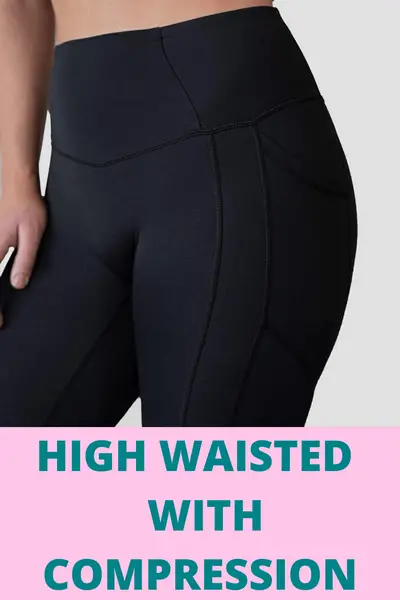 2. Quick-dry, breathable material that won't fall down while you move around.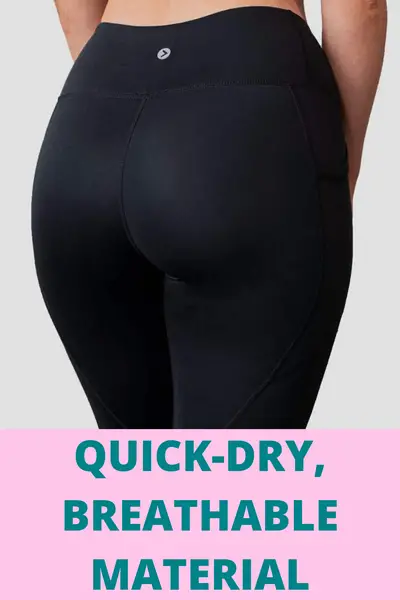 3. Anti-bacterial, sweat-wicking material for the sweatiest of workouts.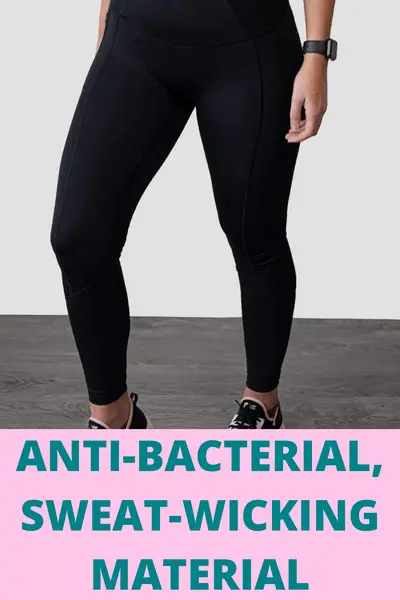 4. True to size with stitching that stretches with your body.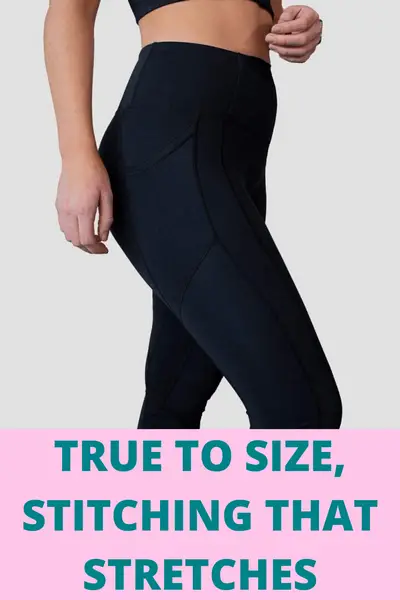 5. Deep side pockets on both legs, plus a waistband pocket.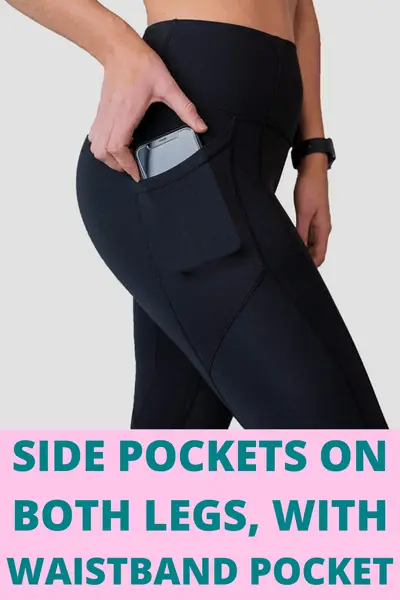 6. Squat proof & 100% babe approved.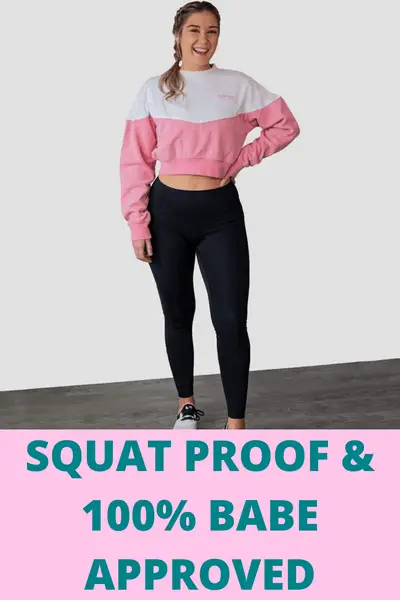 Solutions to Legging Problems
I'm giving you all of my legging secrets that I use to always make your leggings look perfect.
We have tips on how to reduce camel toe, how to make them more squat-proof, how to make them more flattering on your butt, how to take care of them so they don't get all ruined in the wash, and more.
So if you wanna learn all the secrets to looking good in high waisted leggings, keep reading.
See: Women's Merino Wool Clothing
Camel Toe
The first thing and the most important thing to address is camel toe.
Nothing makes me more uncomfortable than a nice camel toe. I can't stand it, I won't go to the gym with a camel toe. I'd rather go to the gym in a pair of completely sheer leggings than go anywhere with any camel toe.
So I could tell you things like make sure to get your correct size, wear thicker leggings, don't wear leggings that have a front seam. But if you have a pair of leggings that you really like and you just really wanna reduce that camel toe, I have a few tips for you.
First things first, make sure you're not going commando in your leggings. If you're going commando in your leggings, there's nothing to separate that little front seam and your region. So it's very easy for things to settle, if you know what I mean.
I have three levels of solutions for you.
1. If you're in the gym and all of a sudden you realize you have some camel toe, and you're like, I cannot deal with this, something that I've done that actually works is go to the bathroom, take a few squares of toilet paper, wrap them up a few times, and just put them in your underwear. It creates a barrier for the seam to not quite cut up as much.
It's obviously not the most comfortable to have a thick layer of something in your underwear, but toilet paper doesn't have to be that thick, and it honestly really helps. That's the quickest fix.
2. This is somewhat of a quick fix but you might not always have these with you – panty liners.
This is basically the same concept as the toilet paper except it works just a little bit better. It stays put more in your underwear. This is what I tend to use when I have a pair of compression leggings that really give me camel toe that I still wanna wear.
3. This solution is definitely if you're really prone to getting camel toe and you get it all the time, you can actually buy camel toe underwear preventers. They're a thicker version of a panty liner with a little more structure and shape. They get rid of any camel toe.
So now that are leggings are nice and camel toe-proof, we will now get into how to make things more squat-proof.
Squat-Proof
It's true that if something is not squat-proof, it's not squat-proof. But you could make things a little more squat-proof.
1. Seamless nude underwear. This is for things like super light, yellow leggings or something where you can really just see your entire butt when you squat, and there's really not much to do to fix it.
If you have a pair of seamless nude underwear, I'm talking of underwear that covers the cheeks, not just a thong, when you squat, instead of seeing your butt, you'll just see a uniform nude color. You can't see any crack or anything.
Ii will look like it's squat-proof. In this case, I would recommend getting a seamless pair of nude underwear so you don't see any panty lines.
2. I do this for all of my high waisted leggings. I pull more fabric from the leggings to be around your butt. If you're not doing this with all of your leggings, you're really not giving them a fair chance to be completely squat-proof.
The more fabric you're gonna have around your butt region, the more opaque your leggings are going to be. If you have more fabric, then the leggings stretch out less, so they should be less sheer. This isn't gonna fix all of your squat-proof problems, but it honestly helps a lot.
If you have compression leggings that you ever feel like they're gonna get a run up the butt or something, which has happened to me multiple times in the gym, if you pull more of the legging up your leg to be around your butt, you also will just feel more comfortable squatting, and just feel less tightness around the crotch area in general.
Cellulite
I don't have any tips to make a certain pair of leggings more cellulite-friendly if they're not already, but I do have some tips you can use to find leggings that are more cellulite-friendly.
1. You're not gonna see a lot of cellulite in black or dark leggings. If you're really concerned about it, those are going to be perfect for you.
2. Look for leggings with some texture or some patterns. You are not going to be able to see any pits, and valleys, and everything in your legs, if you have a big pattern covering it. This is the best way to completely camouflage your cellulite.
3. If you have a legging with some texture in it, maybe some ribbed material, maybe a little diamond-knit pattern, that will also be really good for hiding your cellulite.
Panty Lines
The most requested tip is how to get rid of panty lines. A lot of people go to the gym commando, which I personally don't do. Makes me feel a little weird. You're leaving yourself very susceptible to camel toe.
To the gym, I personally wear seamless thong underwear. Avoid classic, really thin seamless thongs. They're so thin and the edges are just cut that they roll up easily. You'll get these all settled on your body, and then you'll put on your leggings, and then it'll just roll right up the sides, which defeats the point of the seamless underwear.
Taking Care
Now we're gonna talk about some tips on how to prevent damage to your high waisted leggings with side pockets and how to take care of them.
My main tip for preventing damage to your leggings, and by damage, I mean ripping, fraying, and pilling, never do a leg day or any band work with any leggings that have eyelets or are very prone to pilling.
When you have eyelets right around the thigh region, when you do any band work, they can damage your leggings quite a bit.
These bands have thick elastic stuff on the inside, and it could really grip onto those little eyelets and make them fray like nothing else.
My next tip is how to make your leggings more flattering on your booty.
You often see women that always have their leggings look so good on their butt, but they're kinda like going up thier butt, giving them a slight wedgie.
That's exactly what you do. You take the leggings, and you literally pull them up your butt. Sometimes with seamless leggings, you can get that unibutt look. Unless you have a really big butt, it's just not the most flattering.
You basically have to be wearing a thong to do this trick. You take the leggings, and you pull them up your booty a little bit. Much more flattering, a little booty separation, a little more booty definition, really cute.
Another booty-flattering tip is to make sure the waistband is going above your hips.
If you're trying to make your butt look as big as possible, and you have a waistband seam right in the middle of your butt, you're cutting off the line of your butt, and you're making it split into two, which just makes it look overall smaller.
If you have a seam that goes above your butt, you're allowing your butt to look as big as possible, uninterrupted, and it should look much more full.
There's only so much you can do with certain high waisted leggings. Some leggings won't even be flattering in this way. The above-mentioned compression leggings are just super flattering on the booty, and they let your booty have all the room to look its fullest.
Lastly, let's go into some tips on how I take care of my leggings in the washer and the dryer.
Whenever I wash any of my leggings or activewear in general, that's tops, sports bras, I always turn everything inside out. That way, if your washing machine is a little rough and you might have some risk of snags and pilling, it's only gonna affect the inside of your activewear and not the outside, so you actually never even see it.
This also will prevent delicate logos, that are screen-printed on. It'll prevent those little vinyls from peeling off over time.
For super delicate leggings, I always put them in a lingerie bag. That just prevents the risk even more of anything catching on them and damaging them further.
Never dry your compression leggings! Please don't do this. It's not meant to be dried.
A lot of activewear says hand wash only. So if you're gonna wash it, do not dry your leggings, or any activewear!
The heat from the dryer can actually damage the elastane in the legging fibers, and this is what makes your leggings stretchy.
So basically, you're gonna make your leggings less stretchy, damage the fibers, they're gonna lose some of their shape, and they're just not gonna be the same as they were.
Also, if you're washing leggings with anything with a zipper, make sure you zip that zipper up all the way before you wash anything because that zipper is gonna be super easy to snag on anything.
I don't use any special kinds of laundry detergents. I also have heard that fabric softener is not good for activewear because it kind of coats all the fibers, and it can make things less stretchy.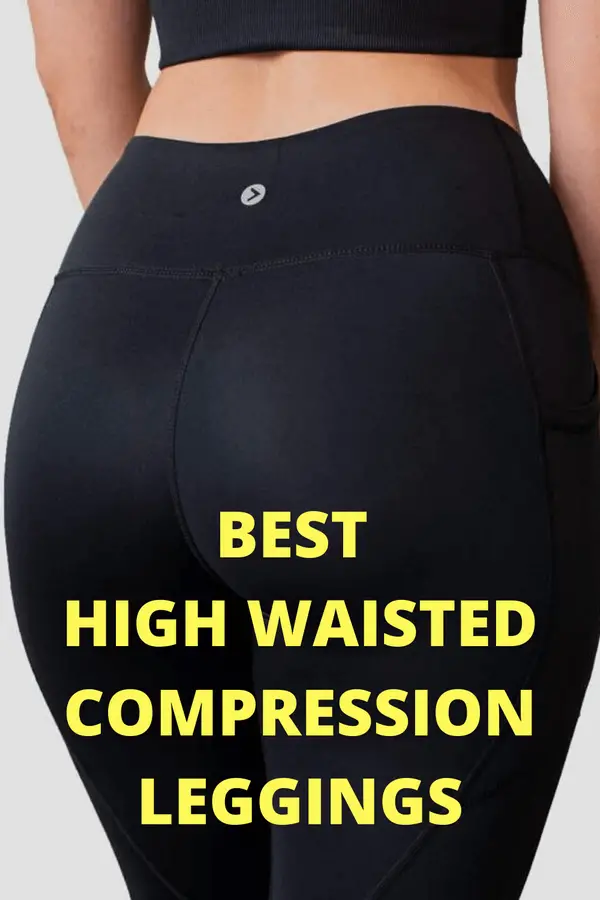 Best High Waisted Compression Leggings (With Side Pockets)