If you want to make your hands younger looking and if you want to have hands that you are not ashamed to show to other people, you are in for a real treat!
I'm going to show you the best hand care set on the market that is transforming women's (and men's) hands as if by magic.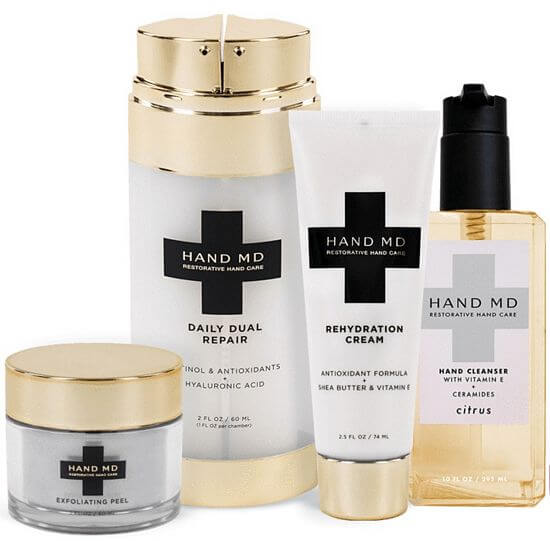 You will see incredible before and after photos as a proof that this skin care kit really works.
Why do you need to take care of your hands?
Because they give away your age. They look older than your face.
Most women only use a basic moisturizer, but it does not cut it.
You really need to take care of your hands the right way.
Best Hand Care Set
Hand MD hand care set contains four products, but two of them are crucial for making your hands younger looking.
One of them is Exfoliating Peel. People are calling it their miracle scrub.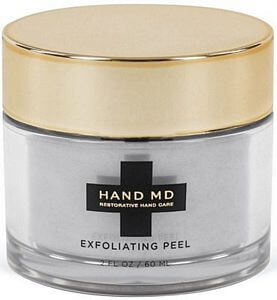 It combines a peel with an exfoliator.
Look at this photo: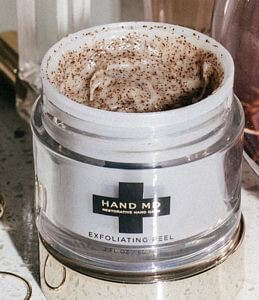 You can see this glisten in there. That is an apricot seed.
It's very emollient and thick oil that's gonna sink into your skin, but it's also gonna take away that nasty layer that you're looking at on your hand right now, that is making your hand look so old.
But there are also glycolic acid and lactic acid.
This is a double exfoliator – physical exfoliation but chemical as well.
You can see the difference in your hands immediately.
In a controlled study, after just one use: 100% of users said that their hands felt softer, smoother and that the texture of their skin improved.
Once you exfoliate your hands (and if you know anything about skin and ways to take care of it, it all starts with exfoliation), you want to use another amazing product.
It is something very special, something you don't see often.
It's two treatments in one bottle and is called Daily Dual Repair!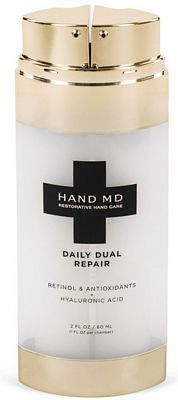 One part is serum, the other part is the heavy duty moisturizer.
This is what's so special about Hand MD. This is skin care. This is not a hand cream.
They made two formulas that are going to work together. They're very powerful one-two punch.
The serum (most women have never put a serum on their hands before) contains retinol, long-acting vitamin C, niacinamide, hyaluronate acid, ferulic acid, and other powerful ingredients that you've never probably put on your hands.
But then after you do the serum, then you do the moisturizer.
It includes beneficial fatty acids.
The reason why you're putting moisture on your hands and it feels like it evaporates and then you've got to put your hand cream on right after again, is because it is evaporating.
What you really need to do is repair that skin and it's gonna hold on to the moisture, it's going to look younger, your fine lines and wrinkles are going to improve.
If you are that person who's constantly saying 'oh don't look at my hands' because your hands are so dry or look old, you will see incredible results with this hand care set.
Look at this before and after photo: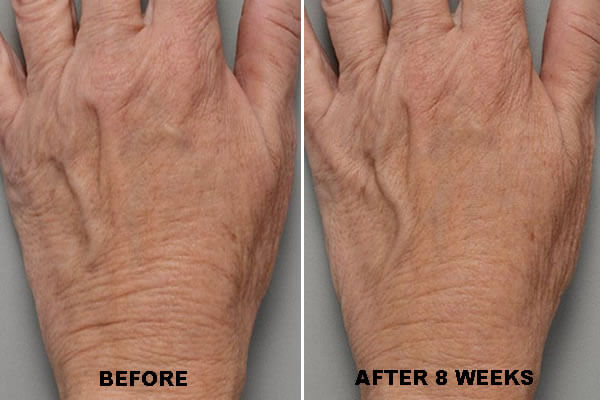 In the before, you can see there's a very deep crease near the wrist. I'm not talking about just fine lines and wrinkles here. I'm talking about a very deep crease. She's in her mid-60s.
If you look at the photo on the right, it's almost like she took an eraser and just went and erased it.
And this is just after eight weeks!
Click Here to Buy + Free Shipping!
You might think 'oh I'm not gonna see an improvement in that wrinkles, they are deep, they will stay there', but it's not true, it's really incredible.
Look at this photo: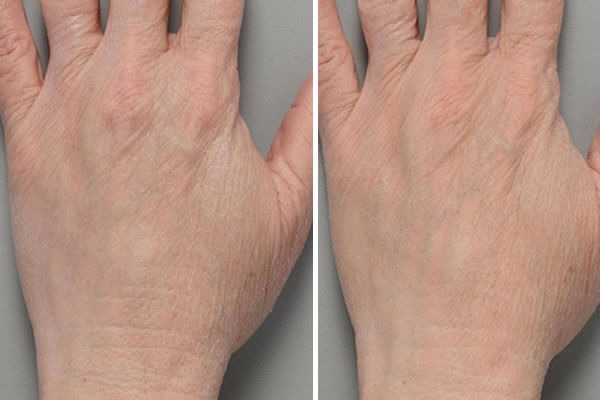 This one is really a hydration example. If you can see near her outer pinkie, there are white flakes, these are literally flaky hands that are so dry that it hurts.
In the after picture, she doesn't have cream on her hands, so you're seeing that rehabilitation of her skin, the rejuvenation because they've enabled it to hold on to the moisture, it's not evaporating anymore.
It is such a cool way to deliver these two treatments, because you've got the serum on one side of the bottle, and the moisturizer on the other. You never have to wonder which is which, because it's right on the back of the bottle.
The kit also includes Rehydration Cream and Hand Cleanser.
The cream rehydrates and repairs your hands with age-defying, antioxidant packed formula. Main ingredients are shea butter, vitamin E, and olive oil.

The cleanser is packed with hydrating ingredients such as vitamin E, eucalyptus leaf, ginger root, ceramides and essential oils.

So many women say to me 'see my nails but don't look at my hands.'
It's so nice when your hands can look and feel good and you don't get to cover them except when you're outside in the cold with your gloves or working in your garden.
This is the first company that ever clinically studied the skin on the back of hands, so that is why these are the people you want to listen to – the Hand MD.
Click Here to Buy + Free Shipping!
See more great results: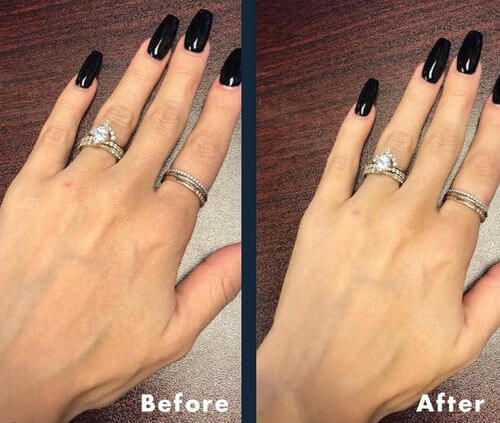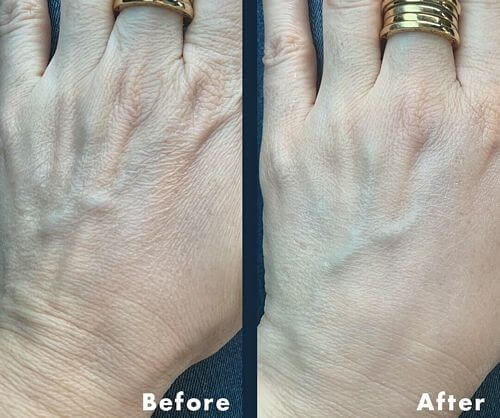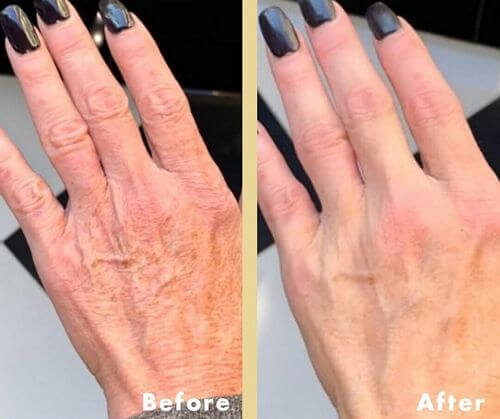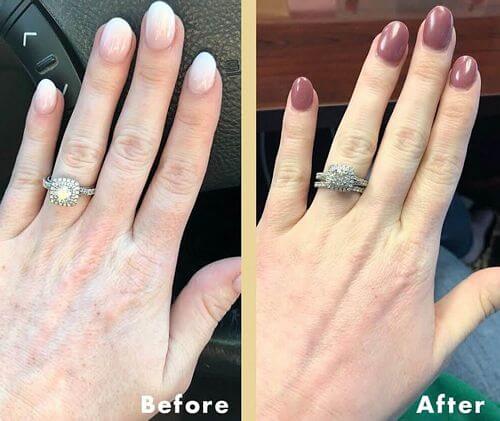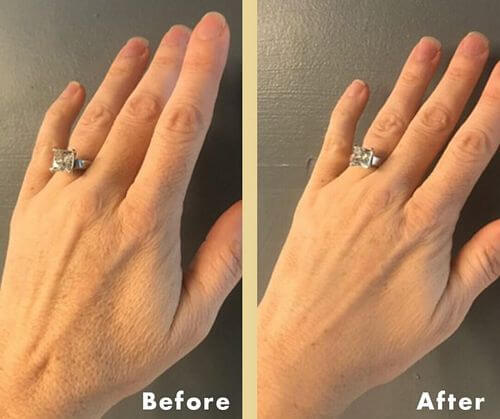 Click Here to Buy + Free Shipping!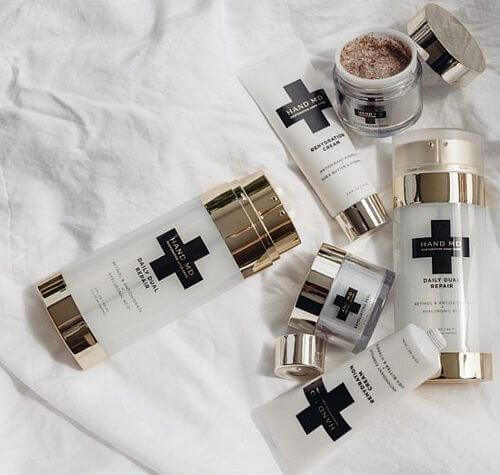 P.S. This hand care set is not just for older women. Not at all. You can be in your 30s or 40s and still have old looking hands. So, everyone can benefit from this kit.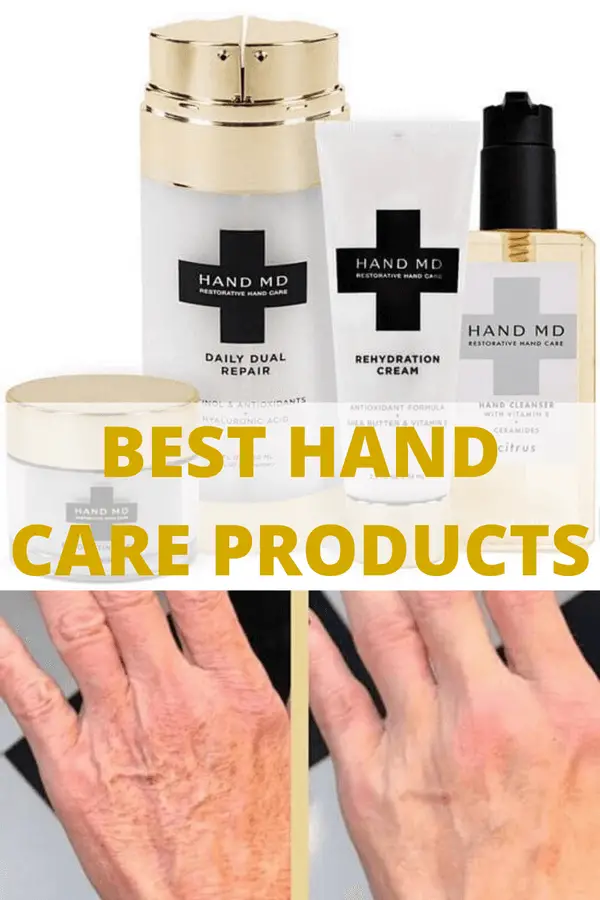 This article is part of a topic cluster on Top Rated Skin Care Products.
#1 Hand Care Set to Make Your Hands Younger Looking Fast!