We all know that skin exfoliation is the key to a youthful glow. It is also the key to dissolving dead, flaky skin cells, stimulating collagen production and building elasticity to reveal younger looking skin.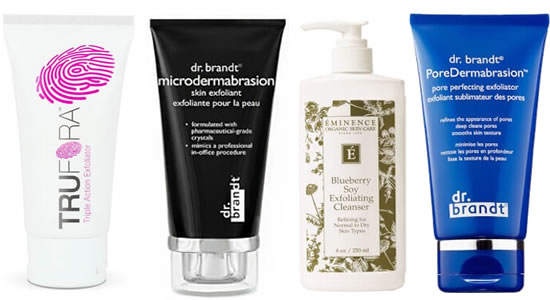 If your skin is continually exfoliated it is forced to create new cells, reviewing fresh healthy skin.
Meladerm Before & After Pictures
Best Face Exfoliating Creams
Trufora Triple Action Exfoliator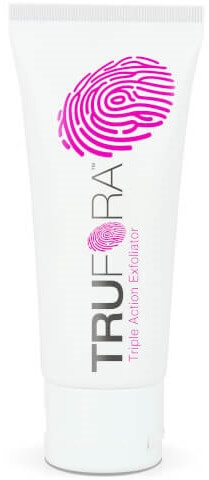 Nominated by AOL Beauty Awards, this is a really unique and incredibly effective exfoliator that works in three complementary ways.
It contains alpha and beta hydroxy acids for chemical exfoliation, it contains bamboo exfoliant for physical exfoliation and it's also formulated in a Kaolin clay base so that you can use it not only as a traditional facial exfoliator but you can also leave it on and use it as a facial mask. The clay helps draw the impurities out of your pores if you leave it on as a mask.
What makes this product so unique is not only the three different ways that it works on the skin but the Triple Action Exfoliator does not cause irritation to the skin.
Also included in the ingredient list are colloidal oatmeal as well as organic aloe to ensure that you're soothing, hydrating and protecting the skin from any potential irritation.
They didn't see any irritation in the clinical studies or in any of clinical testings that were done on human participants but if you do have exceptionally sensitive skin be careful with this product.
It's the only product in the Trufora line that has the potential to cause irritation because of the potent combination of exfoliants along with the physical exfoliation. But that's also what makes this such an effective and incredible cream to use.
This is a great exfoliant, I absolutely love the effect on my skin, I love how fresh my skin is afterwards, it stays hydrated and it's perfectly prepared for the rest of my anti-aging regimen.
I didn't have any sort of tingling or stinging, but I do feel it made my skin really smooth, soft and bright.
Use twice a week, at night. Here is how:
Wet face
Leave skin damp
Squeeze cream into hands
Apply on face. Avoid eyes and mouth
Leave on skin for up to 5 minutes for regular exfoliation or up to 15 mins for weekly procedure
Lightly dampen skin
Massage face for 30 seconds using gentle, circular motions
Rinse face and pat dry it
After you rinse off, there will be a pink flush to the skin and this is really just a temporary after effect of all the active ingredients working on the skin. It's totally normal, it's nothing to worry about and it does pass very quickly.

Dr Brandt Microdermabrasion Skin Exfoliant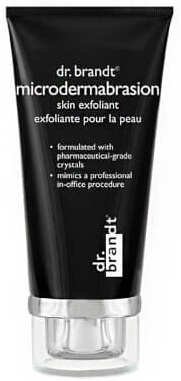 Winner of Allure's best of beauty in 2012, it remains a highly rated and popular scrub.
This white cream is packed with ultra fine aluminum oxide crystals along with a citrus scent, giving you a very spa-like feeling.
Not only does this have a very fine physical exfoliator in it, it also has lactic acid, which is a chemical exfoliator which is going to help renew your skin and bring forward younger looking skin.
Using this will help your skin care absorb better because you are essentially taking off the dead skin and when you do that your skincare ingredients can absorb as well.
You are recommended to use this one to two times per week. You basically put it onto damp skin, you massage it in for two to three minutes and then wash it off. Allow at least three days between applications. This means that it's going to last you a while because it is not an everyday product.
In this product you also find jojoba and aloe vera to help with some of the moisturizing effects of it.
Many women are not usually a fan of physical exfoliators. For them, they just don't really seem to do that much. And if anything they tend to irritate their skin a little.
However, they did not find that with this product because it is such a fine crystal in there. It really does feel like you've taken the finest sand and that is what you're rubbing on your face.
I do find that my skin is super soft when I get out of the shower after using this.
If you are somebody who likes having a physical exfoliator in your routine and you are looking for one that is really delicate at the same time, I would consider looking into this one.

Dr. Brandt PoreDermabrasion Exfoliator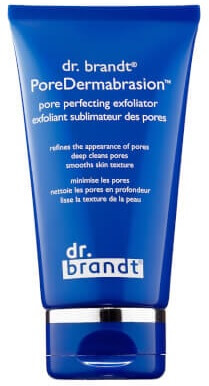 A clean pore is a tighter pore and a tighter pore gives you younger looking skin! If you don't address your pores, you're never gonna win the battle against aging.
If you have big pores don't worry dr. Brandt is here to save you with PoreDermabrasion.
This is the ultimate pore exfoliator. It is specifically designed for your pores. It uses tiny crystals to smooth the appearance of your skin. But it's not only physical.
It's a chemical exfoliation with caviar lime extract that brings your exfoliation to the next level by deep cleaning and refining the appearance of your pores.
It's both chemically and manually exfoliating inside the pore. In the past, pore exfoliation was either done through physically scrubbing the skin or a chemical reaction.
This product combines the best of both worlds.
Chemical exfoliation consists of caviar lime extract and salicylic acid. It's the dynamic duo which enhances the exfoliation process. It's going deep inside that pores to break apart the dirt and the oil which is really difficult to do.
Then you have the physical exfoliation which is your custom micro sized precision crystals, so they actually customize themselves to your pores to help break apart the dirt and the oil.
In a 4-week consumer perception survey, they found that:
90% of the volunteers reported that the product exfoliates without being abrasive.
97% reported that the skin feels cool and refreshed.
93% reported that their skin looks smoother and softer.
That's after one application.
After four weeks of using the product, it gets even better.
97% said the product helped reduce the look of shine providing a matte look. This is because your pores are clean and they're not producing as much oil.
97% reported that the product deep cleans pores. This is so important, your cleansers aren't doing it.
87% says that the product diminishes the appearance of their pores.
This is just using it twice a week and that's what's so remarkable about this treatment.
Here is how to use it:
Damp your face
Take a pea sized amount
Gently massage for 1 minute in circular motion and let the crystals physically unclog your pores
Leave it for a minute and let the caviar lime extract do its work
Rinse
Use this two to three times a week with two days in between applications.
I really love how smooth and soft my skin feels.

Eminence Blueberry Soy Exfoliating Cleanser

There is no physical in this product. It actually has lactic acid and lactic acid is a great brightener. It's also a natural humectant and what that means is it attracts water to the skin. It also has a bit a pineapple enzyme which helps soften even further.
There are also blueberries and we love them because they are natural astringent, so they have a really great tightening effect for your pores.
Other key ingredients are grape extract that hydrates and provides the appearance of youthful skin and soy milk to reduce wrinkles.
So overall if you want to have polished, refined, brightened and decongestant skin, this is the perfect mix for you.
How to use:
Apply a small amount to damp face
Massage with fingertips for 30 seconds in a circular motion
Rinse skin with warm water

Warning About Face Exfoliating Creams!
Can you over exfoliate? Yes, you can!
If you do over exfoliate, this is not good for your skin.
When it comes to exfoliation, you need to think of a skin like an apple. An apple with skin looks plump and hydrated. When you peel an apple, it becomes brown and shriveled.
That is why it's important when exfoliating not to overdo it. Your skin is your protective barrier, don't tear it down. Plus over exfoliating can cause you to strip your skin, making it more sensitive and thin. Rather you should be exfoliating 1 to 2 times a week.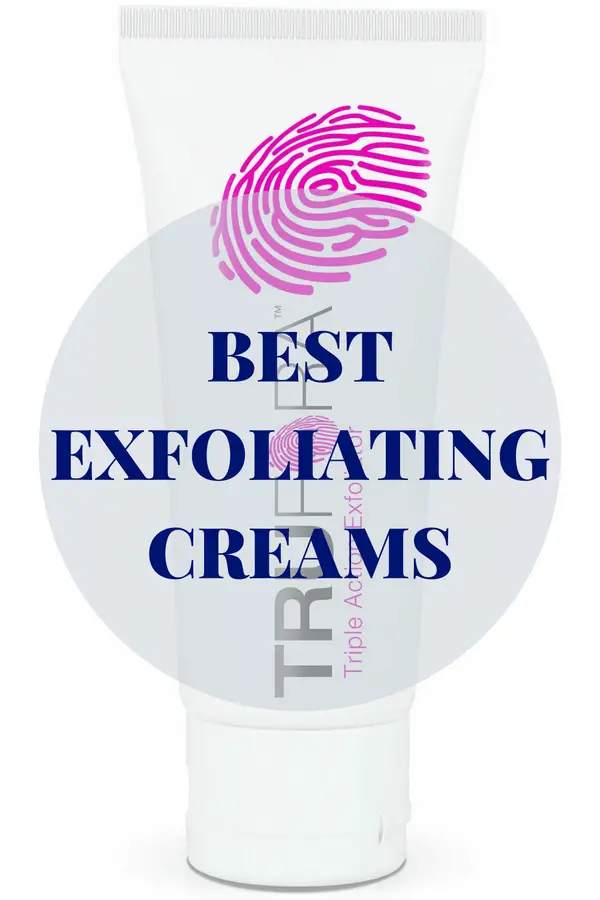 Best Face Creams Containing Retinol
SkinCeuticals Phloretin CF vs. C E Ferulic
BEST Exfoliating Creams for Face (Incredibly Effective)