Here you will find the best collagen powder drinks for all your beauty needs – skin, hair, nails as well as your overall health and wellness.
These powder drinks are a delicious and clean way to supplement your body's declining collagen.
All these drinks are keto and paleo friendly, non-GMO, dairy-free, gluten-free and soy-free.
Best Collagen Powder Drinks
Collagen Cooler – Orange Cream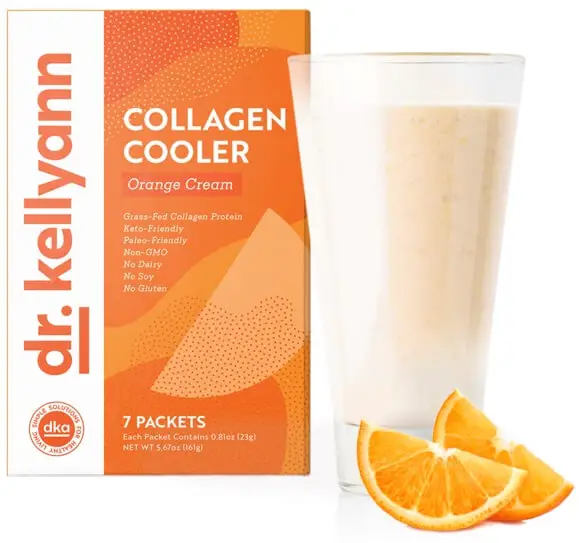 Tastes just like the orange creamsicles of your childhood. But without added sugar and carbs that can cause bloating!
Every rich and creamy drink gives you 17g of grass-fed bovine hydrolyzed collagen. Each box contains seven single-serving packets. You can order 3, 5 or 10 box sets.
This is the perfect, refreshing snack drink. It tastes fabulous!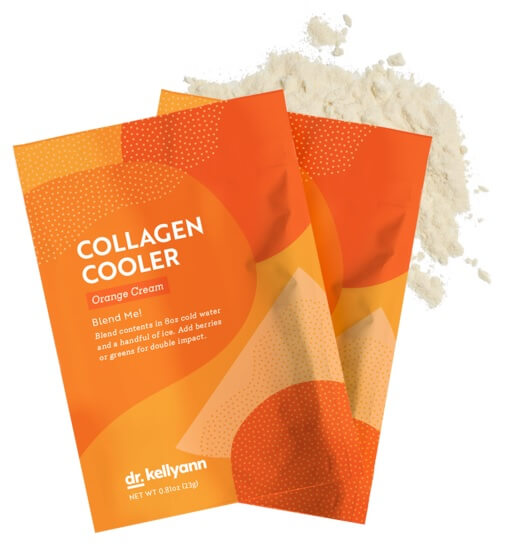 Merianne Pharr from Fremont said that she noticed the skin on her arms and hands were beginning to show signs of aging. After using this product for some time, her skin is now more supple and smooth.
Chery from Madera said that her husband asked her "how many of these he could have in a day" Yes, they are very tasty!

Collagen Shakes – Chocolate Almond and Vanilla Almond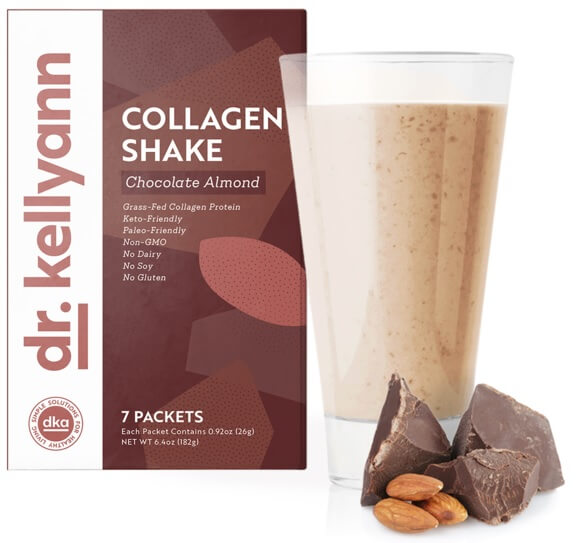 These two collagen powder drinks will not only keep your skin firm and your hair and nails looking great, they will also help your body feel rejuvenated, boost weight loss, improve gut health and reduce joint pain.
When you use these shakes to replace one of your meals each day, you will trim down belly fat and lose inches. How? You'll be reducing your caloric intake and the ingredients are designed to increase your metabolism.
These shakes a delicious way to start the day, for a snack or meal replacement.
17g of collagen per drink. Each box contains 7 single-serving packets. Three options available: 3-box set, 5-box set and 10-box set.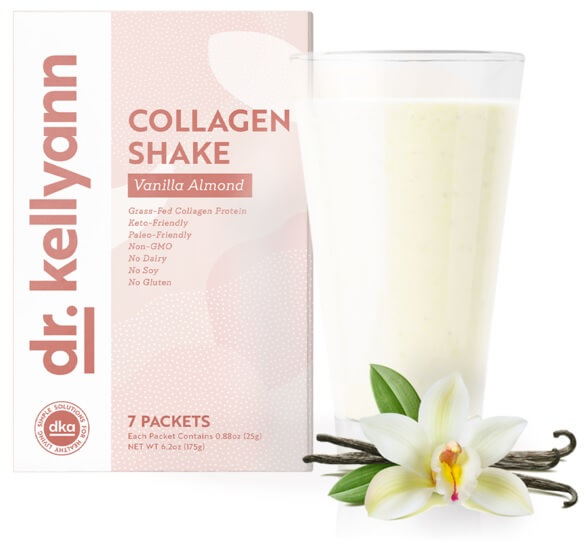 Maria Cruz from Chicago said: "The best chocolate drink I've ever tasted, not to mention the benefits you are getting from it. I planned to drink it forever."
Gloria Daly from Toronto said: "One of the most delicious and versatile products. They are perfect in so many ways. You're only limited by your imagination and taste."

Collagen Broth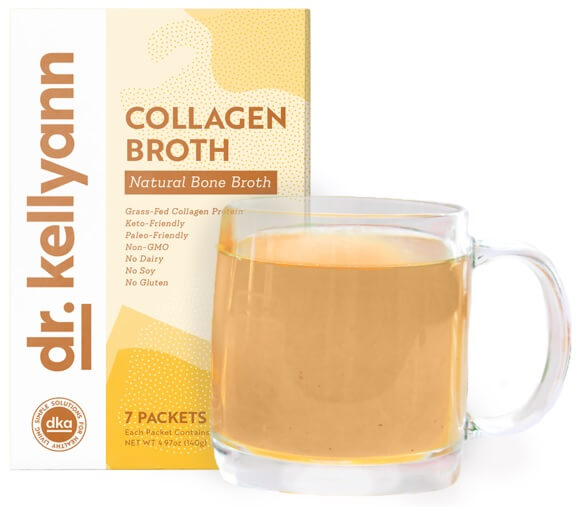 It will help blast wrinkles, protect your joints and heal your gut.
It contains a bioavailable form of hydrolyzed collagen that allows your body to absorb more and reap even more benefits.
Other ingredients put in this powdered bone broth:
Dehydrated bone broth – gives you many vitamins and minerals to feel and look great
Turmeric – with antioxidant properties that reduce wrinkles
Cauliflower – helps with digestion
Reishi mushrooms – boost immune system
17g of collagen per packet. 7 single-serving packets in each box. Three options to buy: 3-box set, 5-box set and 10-box set.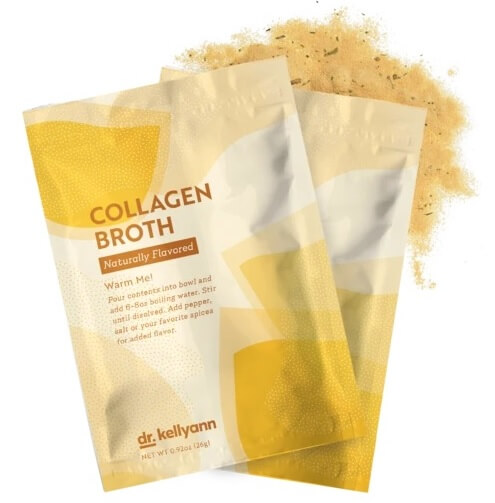 Sharon Nickens from Birmingham said: "Started for weight control and it was successful. Then ordered for skin. People think my skin is great for an almost 63 year old. I give much credit to collagen broth. But above all, I love it. It is truly a treat for me."

Complete Collagen Protein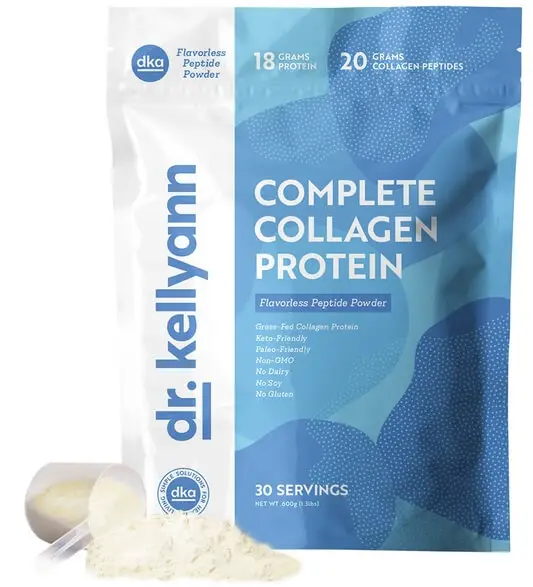 Because it's flavorless, you can add this powder to any dish.
This collagen supplement helps your skin and other soft tissues preserve their elasticity and strength. It also promotes hair thickness, improve joint comfort and supports gut health.
It is easily digestible, which means that you gain more energy and nutritional value from every scoop.
20g of collagen per serving. Each bag comes with 30 servings.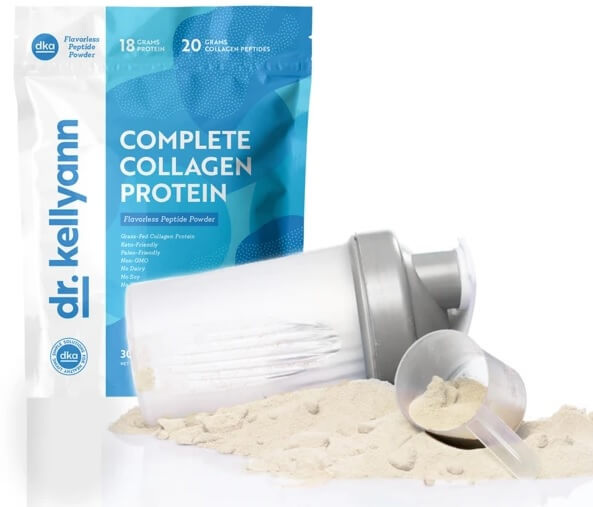 Alex from Washington said: "Collagen worth your money! Not all collagen products in the market today is worth using or spending your hard earn dollars on, BUT this is! I'm 50 years old and for the first time my eyebrows and eyelashes are growing again! Now if that isn't a win I don't know what is?! You will not regret giving this product a try!"

Collagen Coffee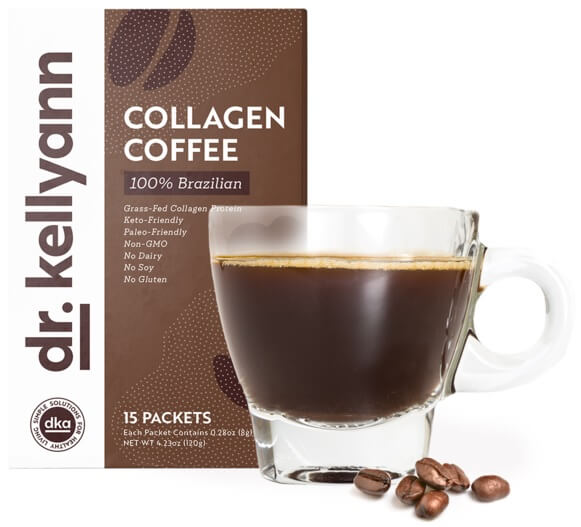 Made from 100% Brazilian coffee beans micro-ground for a smooth, light coffee flavor with subtle hints of chocolate.
It produces several health benefits. A study has found that individuals who suffer from IBS and gut inflammation usually have lower levels of collagen.
Drinking this collagen coffee have a real, positive effect on your gut health.
7g of collagen per one convenient on-the-go packet. Each box contains 15 single-serving packets.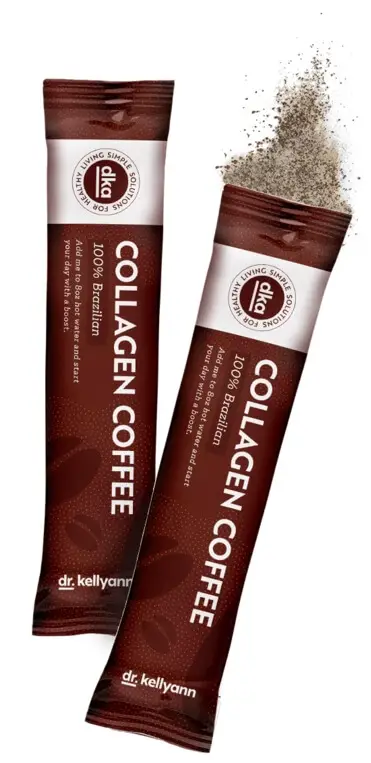 Nancy Vance from Colonial Heights said "I have been drinking Dr. Kellyann' s Collagen Coffee for over a year. It has a delightful and delicious flavor. I drink it because the collagen helps my hair, skin, and bones. When I am hungry I drink a cup of collagen coffee and it fills me up."

Collagen Hot Cocoa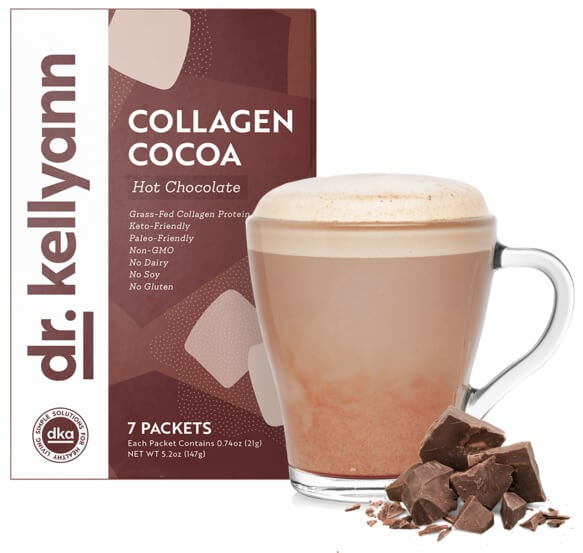 If you love a warm cup of hot cocoa, this product is the perfect solution for a healthy, warm drink!
If you mix it with coconut or almond milk, you can use it a warm meal replacement. If you mix it with greens and fruit, you get a satisfying shake.
17g of collagen per single serving improves skin, hair, nails, joint pain and gut health.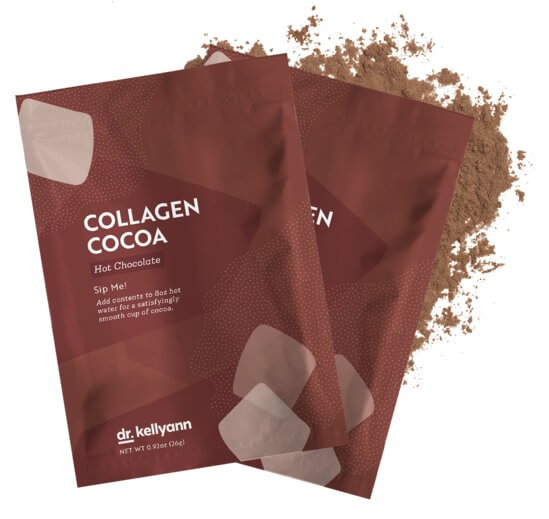 Karen from Groveport said: "Where else can you get an 80 calorie cup of hot cocoa that packs 15 grams of protein? This is great in the afternoon when I'm starting to crave some sweets or carbs. Drinking a cup of Collagen Hot Cocoa really curbs my cravings."

Collagen Creamer – Vanilla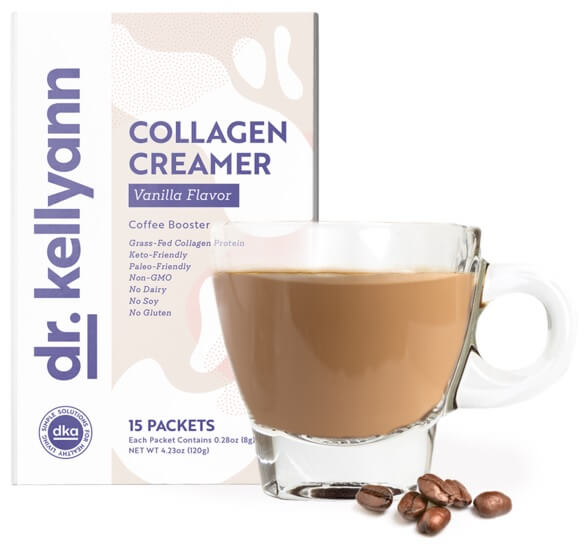 Stop using store-bought coffee creamers. They are full of preservatives, chemicals, sugars and artificial thickeners. They mess up your system!
This vanilla collagen creamer tastes great and isn't filled with preservatives and chemicals.
You get 4g of collagen per packet. Each box comes with 15 single-serving packets.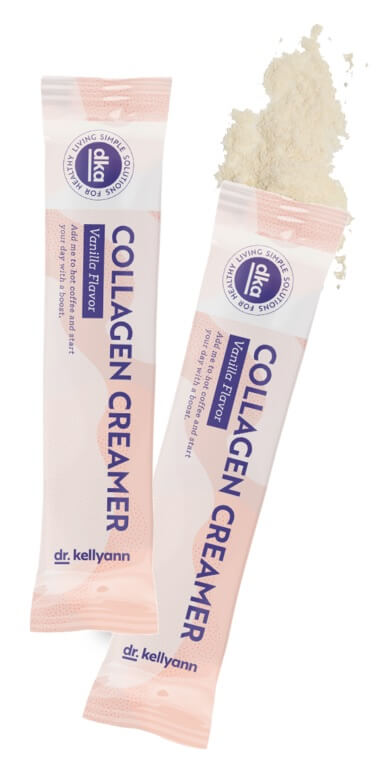 Kimberli Harris from Louisville said "I like cream in my coffee and this has a double benefit – adding the creamy vanilla flavor to my coffee plus it healthy and adds collagen to my diet. Super bonus!"
These powder drinks are a great way to get extra collagen into your diet.

Collagen Drinks Beauty Benefits
Do collagen drinks work?
Collagen is the most abundant protein in your body. Its main function is to act as the glue that holds the body together.
It gives your skin strength and elasticity and it also replaces dead skin cells. It aslo improves hair. This is the reason why it's used greatly for beauty.
As we age, collagen production declines, it is happening right this moment as you read this article. You'll notice it physically with a looser skin, more wrinkles and less elasticity.
Taking collagen powder drinks can help your skin look firmer, smoother and helps your skin cell renew and repair all the time.
Collagen is also proven to reduce cellulite and stretch marks. When skin loses its elasticity, as a result of decreased collagen production, cellulite becomes more noticeable. Collagen helps reduce that dimpling on your skin and improves elasticity.
Several double-blind studies that investigated anti-aging properties of collagen have found that 5 grams of collagen a day for 2 months significantly improves skin elasticity, skin moisture, water loss or dryness of the skin and roughness.
With little to no side effects and this makes collagen one of the best natural skincare ingredients available out there in a market.
Fix Drooping Mouth Corners With Botox & Fillers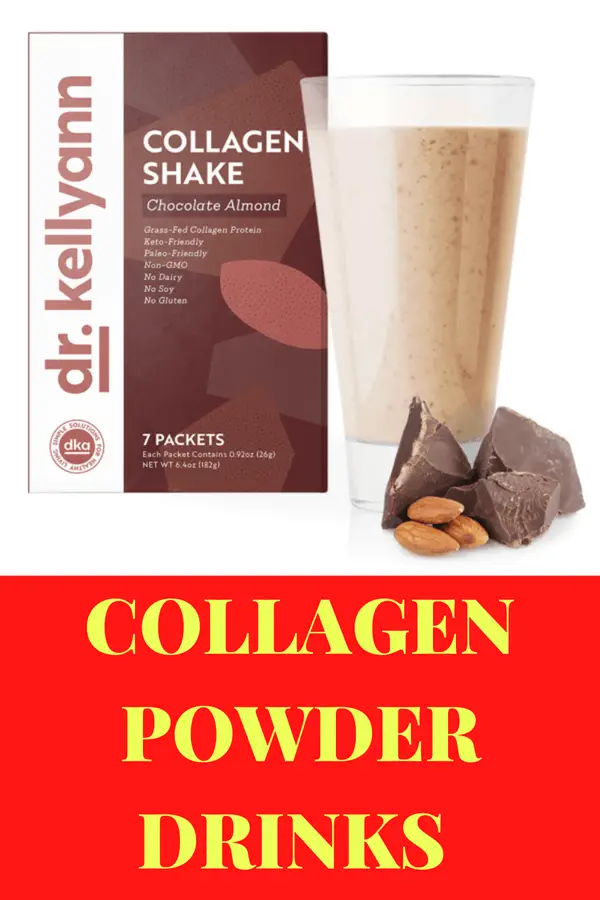 Best Collagen Powder Drinks (For Skin, Hair, Health)