Here you will find the best women's hats for sun protection that are popular and trendy. Ladies are crazy about them and they get sold out quickly.
These hats will not only elevate your personal style, they also provide great sun protection in summer.
Best Women's Sun Protective Hats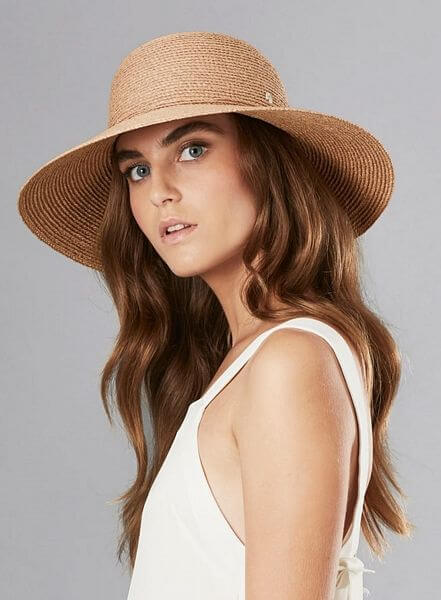 It takes more than three days to make this hat by hand. It's made out of raffia and straw. It features a delightfully angled 4 inch brim and round crown. This ideal summer hat is UPF 50+rated for sun protection.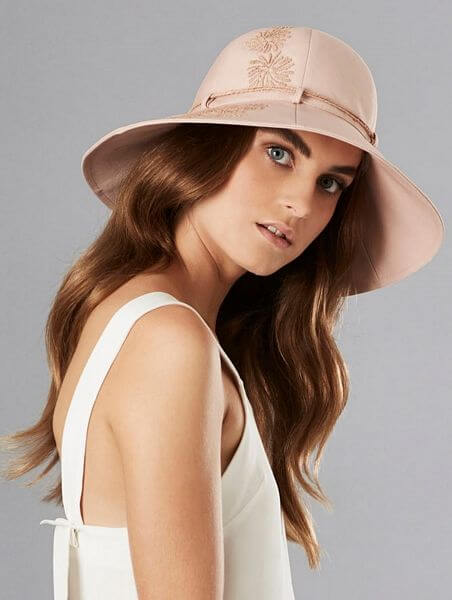 This beautiful bucket hat is made out of cotton with a floral raffia embroidery. It is finished with a fine panel detailing and is fully lined with light-weight cotton. It is UPF 50+ rated for sun protection.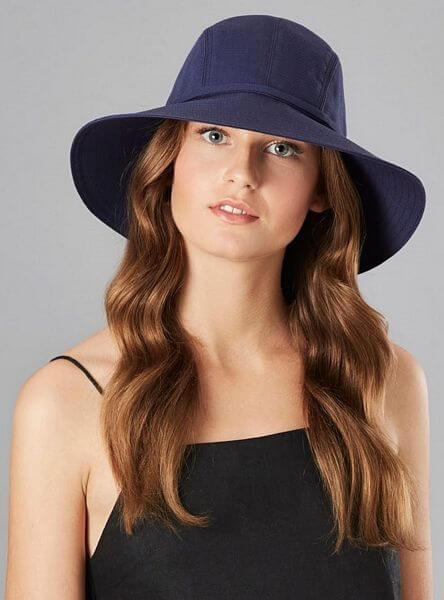 This lightweight and durable hat is crafted from a Japanese cotton weave. It features geometric textural pattern and piping seam detail. It is an essential summer hat that provides UPF 50+ sun protection.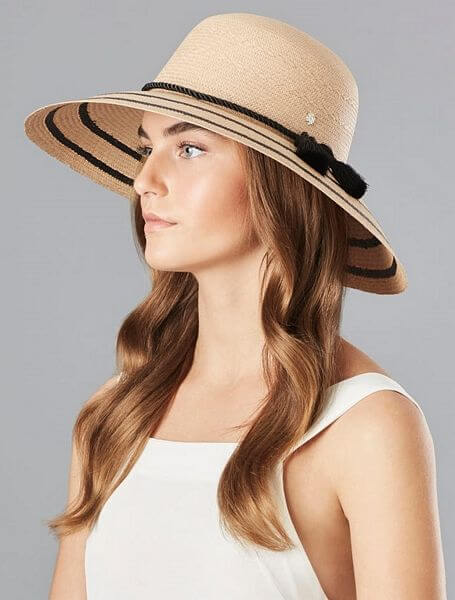 Handwoven with Toquilla Palm, it features 4 3/4″ wide brim and a round crown. Each hat is unique because of slight color variations that are created when hats are dried by the sun. They are finished with a contrast rope trim with tassel ends. It is UPF 50+ rated for sun protection.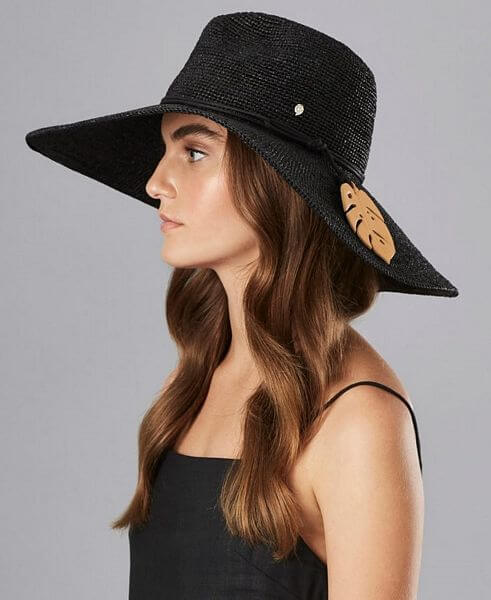 Hand crocheted by artisans in Ecuador, it features a wide 5 1/2″ brim. With a knotted, waxed cotton cord and leather Monsteria leaf motif.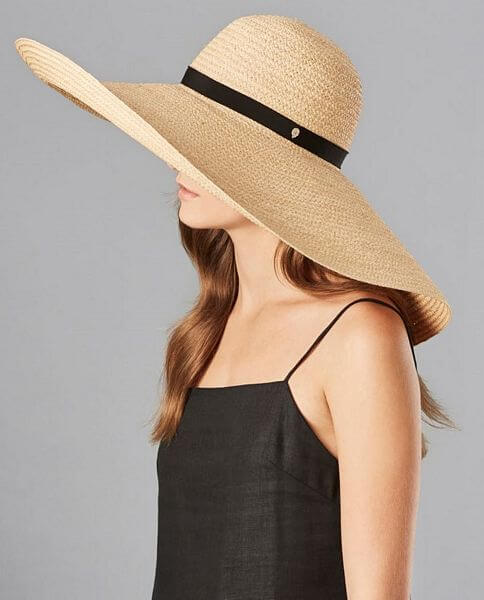 With 8 2/3″ wide brim, this is the hat of the summer season. With a classic round crown and simple Italian grosgrain ribbon trim. Crafted from 100% Raffia fine braid with highlighted texture.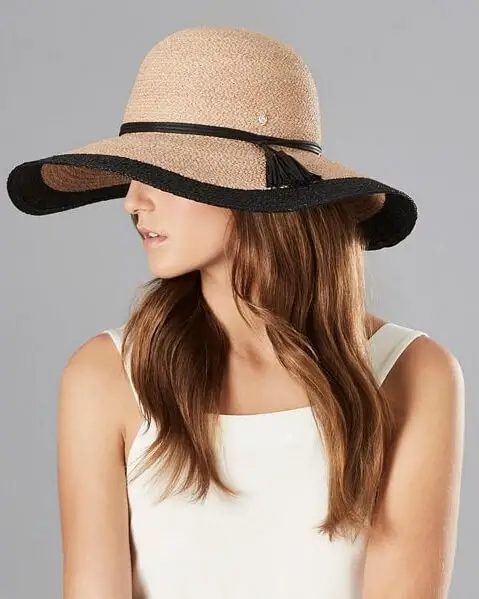 It epitmizes femininity with its 4 3/4″ wide brim, round crown and contrast brim edge detail. This UPF 50+ raffia hat is finished with a leather tassel and detailed with a waxed cotton cord.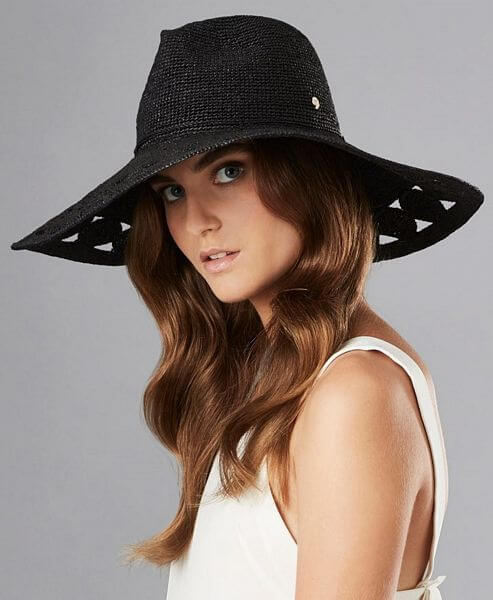 Each of these hats takes 5 days to make. Made of 80% Raffia, 15% cotton and 5% silk. It features a wide 5 1/2″ circular crochet brim where each disc is individually crocheted and attached separately by hand.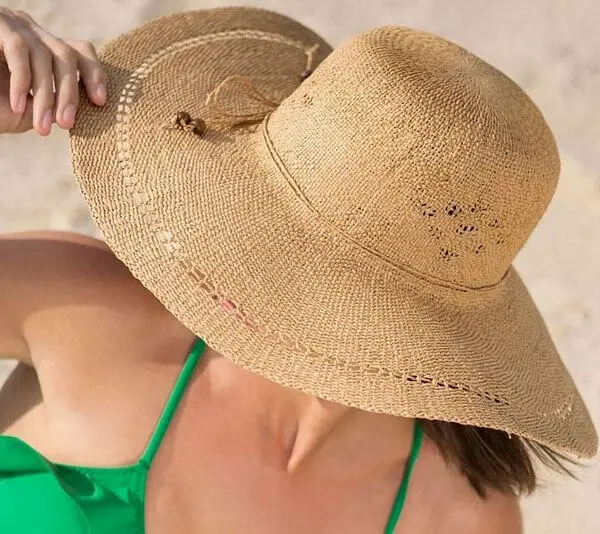 A stylish and sophisticated beach hat. 100% paper straw hat features a 5 1/4″ wide brim. A beautiful crochet detail on the round crown is accented by a ribbon cording finished with wooden bead ends.
St. Tropez Braided Wide Brim Floppy Hat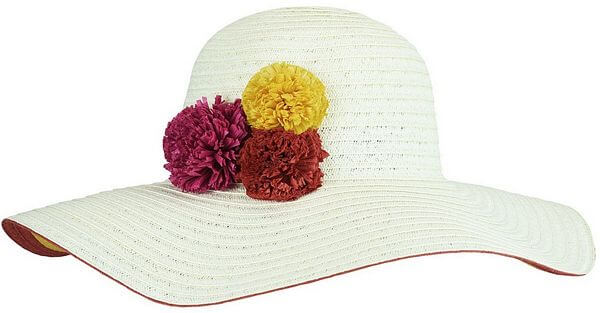 It features a 4 1/4″ wide brim, a round crown, and an adjustable inner band. It is trimmed with a colorful trio of pom poms and has a color blocked design on the underside of the brim.
Click Here to Buy One of These Fabulous Sun Hats!
…
No matter what model of these high quality hats you choose, it will protect you from the sun, hide a
not-so-good hair day and add that summery feel to all of your looks.
Tips For Buying Hat For Sun Protection
Here are some shopping tips for picking a great sun hat. We want you to look good and also protect your skin.
The first thing you're gonna want to look for when you're looking for a sun hat is something with a nice wide brim. At least two inches wide on the brim to make sure that your face gets a lot of coverage. The wider the brim, the more coverage you're going to get.
Also you're gonna want a nice fit. If it's too tight, you're not going to want to wear it. It's gonna sit in your bag and it's not gonna do anybody any good. You want something that's comfortable, it doesn't squish your head too much.
When you're shopping, you don't want to look for anything with a lot of wire in the shape. Even though they're fabulous and they have a great shape about them, if you're going to be traveling, look for something that can be mashed up and that will spring right back.
Try to find a hat with a nice open weave so it's going to be breathable when you're in hot climates.
Those are two shopping tips to look for – breathability and crushability.
When it comes to fit, we said that you definitely want to have something that's going to be snug against your head, so it won't blow away but not too tight so it's uncomfortable.
Good hats have an adjustable band inside of them and they also have sweat rings, so the sweat won't run down your face. It's going to be collected in the ring and then you can simply hand wash it.
A very smart choice for someone who is very concerned about sun protection are hats with a wider brim, over 4 inches. Many of them have sun protection baked right into them. They got an SPF coverage of 50+. It's not coated on the fabric, it's actually woven into the fabric. So that's going to be something you want to look for as well. If you can find SPF in the sun hat, that is a good pick.
I like the light colors because it does keep my head a little bit cooler when I'm in a sunny climate. So a soft pink, a soft blue. White is a little bit tricky because sometimes sunscreen blends with the white and you'll get stains, but softer pastels are wonderful.
Many of these hats, even though they are quite large, you can shape them. They are not only covering your face but the back of your neck as well. The back of your neck, especially when you're on the beach and you're reading a book, is a great place for a sunburn to happen.
So if you can find a hat that will cover that (see above models), you're in good shape.
Those are best shopping tips for picking a sun hat. Make sure that you pick something that you like and be sure to wear it so you get the best proper sun protection that you can.
Why Sun Protective Hat is a Must-Have?
A sun protective hat should be in everyone's wardrobe. A bare minimum is a hat with 7 centimeter (about 3 inches) brim.
The reason is that we know from studies that at a hat with 7 centimeter of brim we'll get you an SPF of 7 on your forehead and roughly 5 on your cheeks as well as an average of 3 on your nose.
That compounds your sunscreen on your face and gives you better protection.
The other reason for the sun protective hat is protecting your scalp. People don't like wearing sunscreen in their scalp. Liquid sunscreens are an option but it's really hard to put sunscreen in your scalp all the time, particularly for day to day use.
But when you're walking across a parking lot with an exposed scalp, that is a recipe for sun damage. Skin cancers in the scalp are incredibly common.
Hair does protect the scalp a little bit but not a hundred percent. But if you have lost your hair or have bald spots, bald patches, areas of hair loss and hair thinning, definitely you need to be wearing the hat out there.
Keep in mind that caps and visors fail in sun protection because they don't keep the sun off the ears and the sides of the face. If you take your hat off briefly, a lot of sun will hit the side of your face, your ears and the back of your neck.
If you put a cap or a visor on, all you are doing is just covering the front. The ears, the sides of the face, the back of the neck are all still exposed to the sun. A wide brim hat covers you completely and offers much better protection.
It's a big mistake thinking that the clouds are providing some protection from the sun. What we know is that a great percentage of the UV radiation travels through the clouds. Some of it is blocked but that depends on the thickness of the cloud. The thing with the clouds is that they blow around so it's very hard to tell how reliable they're going to be.
Another big mistake is thinking that just sitting in the shade, wearing very brief clothing, not worrying about a hat or sunscreen, will be fine. One of the things we know about UV radiation, particularly when we are in the beach, is that it reflects off other surfaces. It reflects off the white sand almost like a mirror and that means that the UV radiation can come in underneath the shade, it can come in from the sides. If you're sitting there all day, you can still get quite a quite a reasonable amount of UV radiation.
A classic mistake is to use the temperature of the day to help you decide whether you need some protection or not. The important thing to remember is that UV radiation is not directly related to temperature.
So when you walk outside and it's a hot day, we're all prompted to put a hat on and to cover up. That's good. But it's quite possible that a week later or a month later, the temperature will have fallen to 25 degrees, you'll walk outside and think I don't need to worry today because it's not hot. And yet the UV radiation will be just as strong as it was.
It's important to try and keep in mind that we don't feel UV radiation but we need to defend against it whenever it's greater than 3.
So…
A good hat will protect your face, head, ears and neck and can reduce UV radiation to the eyes by 50%. Broad brimmed and bucket hats provide the best sun protection.
Legionnaire hats also provide good protection. Baseball caps do not protect the face, head, ears or neck, so don't rely on these for sun protection.
Pick a broad brimmed hat with a brim of at least 7.5 centimeters.
For the best sun protection, a tighter fabric structure is best. A fabric with UPF 15 offers good protection while UPF 50 offers excellent protection.
If you're wearing a bike helmet or hard hat consider a brim attachment or Legionnaire cover.
Never rely on hats alone for sun protection. Combine hats with sun protective clothing and sunscreen, seek shade and slide on sunglasses.
See also: Fedora Straw Hats For Women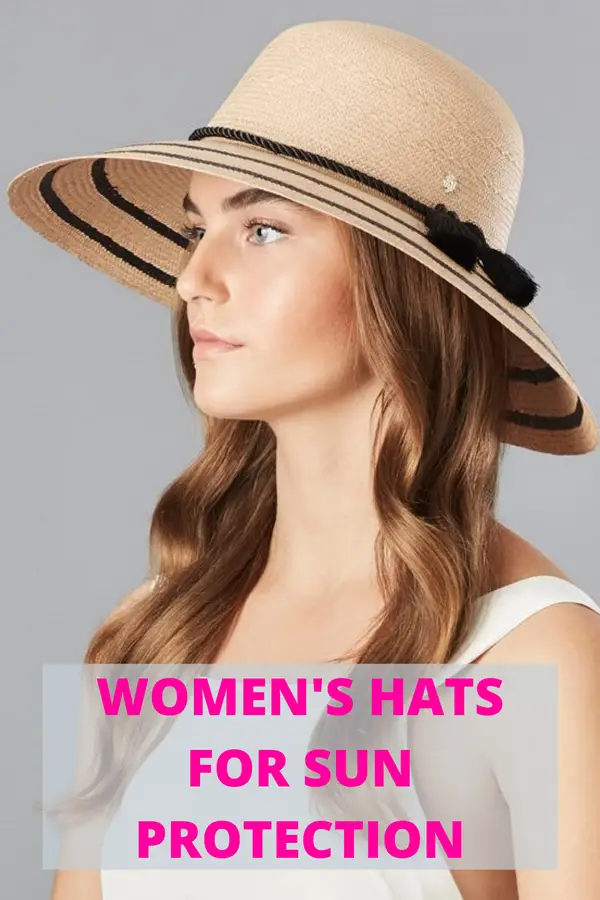 Best Women's Hats For Sun Protection (Wide Brim)