In this article we're taking a look at the Sea Eagle inflatable sport kayak. It is the model 370 and despite its small size in the bag, it actually expands out and inflates to a 12 and a half foot inflatable kayak.

It packs down to just a fraction of its size and the weight of the bag is about 38 pounds.
So this bag makes it really easy to carry this kayak around. It's got a handle in the front and a shoulder strap in the back so that you can carry it to the shore or waterfront, wherever you're going to be setting up your kayak.
In the bag you get the kayak, which folds up really small.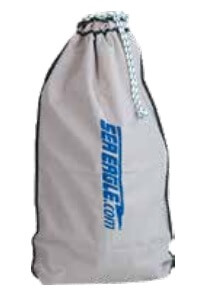 You get two inflatable seats and these are the deluxe seats. They come in a variety of different packages, but we've got the deluxe seats that we'll tell you more about.
It also comes with two collapsible paddles and the foot pump for inflating your kayak.
When you got the kayak all spread out, there are three chambers in this boat.
There's the floor and the two side chambers. There's also a rear and front spray skirt.
All of these inflatable portions have one-way valves, which means you put the air in and it's not going to come back out on you.
The kayak only takes about 10 minutes to inflate, using the foot pump that is included. The foot pump is really easy to use, but it does make a weird sound as you're using it.
After inflating the three main chambers, inflate the spray skirts.
As you're inflating it, there is this inflation monitor section printed right onto the side and you match that up with an inflation monitor template that comes with the kayak.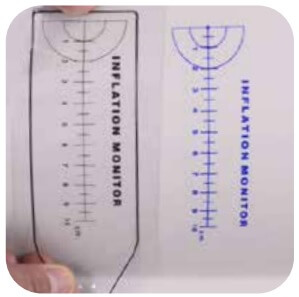 Simply place the template over top of the inflation monitor and you can see how far to inflate. As you pump, this area will expand and stretch out to the optimal inflation.
To deflate, make sure the kayak is dry and then simply unscrew all the valves. Deflation happens quickly so you can immediately start folding and rolling the kayak to push out all of the air.
Like we mentioned before, it comes with the deluxe seats and what that gives you is a little bit better back support and five inches of lift off the floor of the kayak.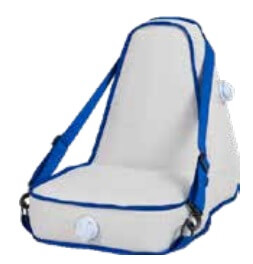 Best Inflatable Kayaks For Sale
These seats have two inflation chambers that you need to inflate. They have these really nice supportive straps that you can adjust to help with that support.
It has a really heavy covering and it has the back storage pouch that you can put a repair kit or compass or cell phone in.
At the back of the kayak we have a drain valve and underneath we have two plastic skegs.
On the bottom there are multiple ridges. They call it i-beam construction and that's for more rigidity and stability.
A lot of you might ask how durable is an inflatable kayak.
This is a soft-sided kayak, so it's not going to be as durable as your hard sided kayaks. You can still press into it pretty easily, it's still soft, but they have put a lot of effort into the durability of this material.
It's sun resistant and saltwater resistant and they also include a repair kit with your purchase that has some glue and adhesive to fix any holes that may occur.
A lot of people do use these boats with their dogs without having any issue and we've run it over rocky bottoms and such and have had no issues.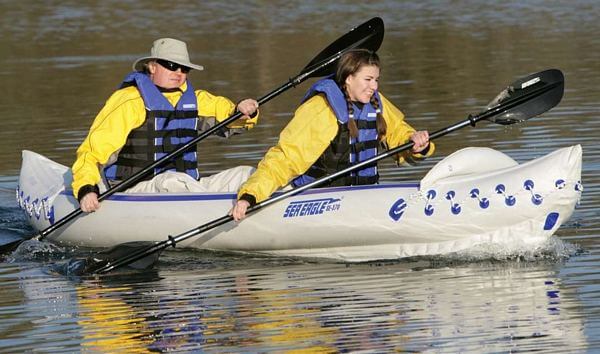 We have had this kayak for about six months now and we've used it on salt water, on fresh water, and I believe a couple of rivers as well.
For convenience we love it. It's easy to use, easy to set up. It probably took about 10 minutes to inflate everything.
We also speed that process up by using an electric pump to help out. So one of us will be pumping up, say the chairs, while the other one is pumping up the kayak, which makes it go a lot faster.
From a portability standpoint, we love that we can deflate this, fold it up small and put it into our storage of our car. It also makes taking it wherever we wanna go very easy.
From a performance standpoint, this boat doesn't feel like a toy. It feels well made, good quality and it's not just a cheap raft.
It tracks very well with those two skegs in the back, so it keeps you going in the direction that you want to go.
And it's really not that bad on speed. However it is an inflatable boat and it does sit higher up in the water, so you are more susceptible to the wind. You do have a little bit of drift, you're not going to have that speed as you would with a hard sided kayak.
In general it is quite stable on the water and from a durability standpoint, we've been really pleased. We've drug it up onto rocky shorelines and we've had no problems with any damage.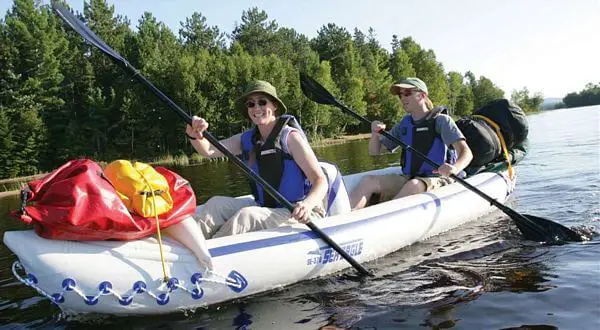 Comfort wise, it's pretty comfortable, especially with these deluxe seats. I think they do a lot for the back support. However if you're a very tall person, there is a little bit of cramped leg space, so I wouldn't recommend taking this kayak out on a five, six or seven hour kayak.
We've mostly used it for two or three adventures and it's been very comfortable. You can pop your legs up over the sides if you want to get a good stretch.
So one of our only complaints with this kayak is that the three valves are all right on top of each other. So when this is all folded up, they have a tendency to run into each other and make little dents on the ceiling piece of plastic, preventing it from sealing properly when you have this screwed in.
Those indents can be fixed by using a hair dryer or similar to warm up the area and pop those dents out, but if you haven't brought your hair dryer to the lake with you, that can be a little bit inconvenient.
The seats can shift back and forth, generally we don't have a problem with it, but if you're kayaking for a while, you may notice some seat movement.
The other thing that we noticed is there's no real clear indication of front and back, so we have put these seats in the wrong way before, which means the skegs were in the front and that did not work well at all.
It inflates and deflates really quickly and when inflated it's really easy for two people to carry. It's really lightweight and portable, but it's heavy enough that we wouldn't suggest hiking three miles with it before you get to your kayaking destination.
This kayak is advertised as being able to fit three people but honestly I think you'd be really cramped.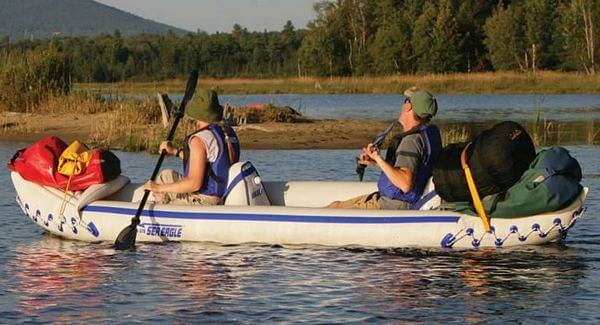 Overall we've been really happy with this kayak. It's really enabled us to get out and explore the waterways on our adventures.
And we love that we can pack it up and easily store it in our car.
So this has been the Sea Eagle 370 inflatable sport kayak.
Available in four different packages. Huge savings also available.

Best Rated 2 Person Inflatable Kayak
Best Inflatable Kayak For Whitewater
Best Inflatable Sport Kayak Review