Our latest favorite pressure cooker:
Megachef 8 Quart Digital Pressure Cooker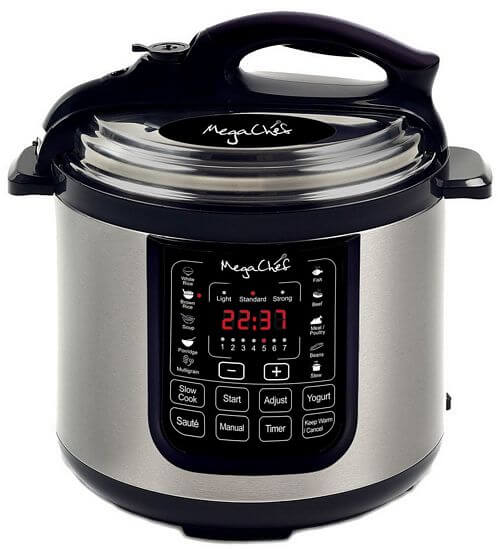 It has an easy-to-read digital display with 13 preset functions to make setup a snap.
This pressure cooker features automatic shutoff and a pressure limiting valve for additional safety.
Cooks in less than half the time of anything else in your kitchen (except maybe your microwave)!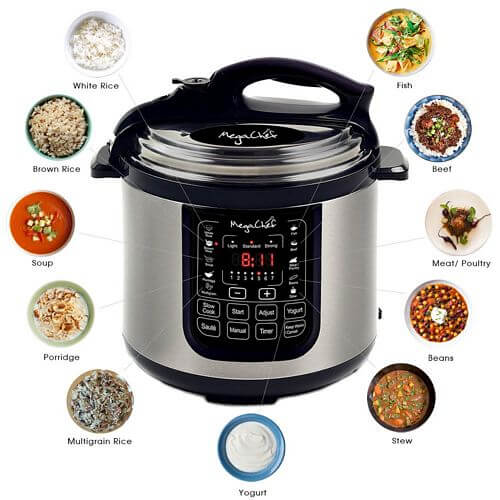 Click here to read what customers are saying!
Fagor Premium 8 Qt
If you are looking for a new non stick electric pressure cooker, look no further than Fagor Premium 8 Qt.
It makes cooking a real joy because you can throw almost anything in it and in short time have delicious meal!
I use my Fagor Premium pressure cooker for everything. To tell the truth, I have two of them so that I can speed up my cooking even more!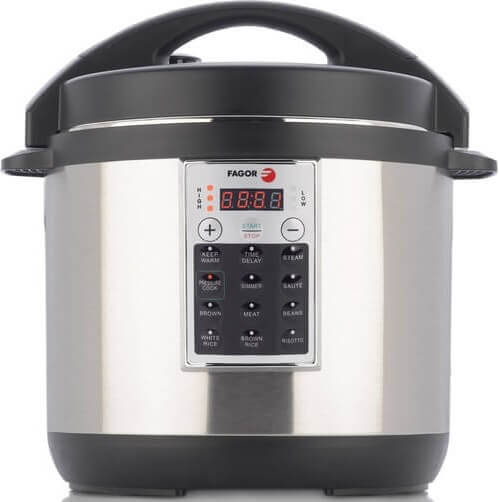 It cuts down cooking time in about 60% to 70% depending on the dish. Most importantly, food maintains its natural color and flavor. It is not only time saver, it's also great energy saver.
Just put in ingredients, press a desired setting, wait a short time and enjoy a yummy homemade meal.
ETL-approved, stainless steel Fagor is much more bigger, powerful and quieter than other models on the market, such as Cuisinart.
I really like the fact that you can change the time if you want to cook the food a little longer or less as everyone's tastes are different.
How To Use the Fagor Premium Pressure Cooker
Features of Fagor Premium Non Stick Electric Pressure Cooker
There are five built-in settings to cook:
beans – no longer necessary to pre-soak the beans overnight
meat – cook meats until it falls off the bone tender
white rice – to make rice soft, fluffy and delicious
brown rice – to cook rice entirely while preserving all of its richness and nutrients
risotto – ensures the temperature is perfectly precise
There are also these cooking functions:
saute – to saute food before cooking
steam – to steam fish and vegetables
simmer – used to make soups, stocks, sauces, etc. It makes sure that food stays just below the boiling point.
brown – to brown food such as meat or poultry
keep warm – for food reheating or to keep cooked food warm for up to 12 hours
You can also choose between two pressure cooking settings: high and low. With time delay feature (up to six hours) you can program a specified cooking time.
A digital display shows time while indicator lights show when pressure or temperature is building and when it has been reached. Plus and minus buttons are used to adjust time.
The aluminum cooking pot is removable, non stick and dishwasher safe, making it very easy to release food and clean up.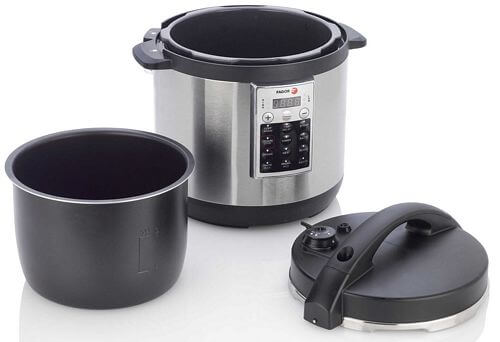 The Fagor Premium pressure cooker is perfectly safe and there is no any risk for explosion. You can have a peace of mind knowing that self locking lid cannot be opened while there are pressure and steam inside the pot. Automatic float valve adjusts with pressure buildup.
You can quickly release the pressure by turning the regulator knob to STEAM. All the pressure and steam will be released in seconds. Keep in mind that the steam is very hot, so turn it away from your face and hands.
How it works? For example, put a cup of rice with 2 cups water in the pot, lock the lid by turning the handle and press the "brown rice" button.
It automatically sets the timer for 20 minutes. Once the pressure builds to the correct PSI, countdown is started. After it's done, you will hear beeps and the cooker reduces the heat to "warm" until you turn it off. Brown rice comes out tender and fluffy!
Make sure not to turn the pressure relief valve under an overhead cabinet because it releases a strong burst of steam.
You should buy the 8 quart because you can only fill the pot 2/3 of the way – large enough for a crowd but will cook for a few.
So if you are searching for a large capacity non stick electric pressure cooker, this one fits the bill perfectly. I highly recommend it – it will change cooking as you know it!
It's a time and energy saver that doesn't compromise on the flavor or quality of the finished product.
Click here to buy + free shipping + 1-year manufacturer's warranty!

3 More Options to Consider
LUX Multi Cooker 6-quart
This is another great electric model by Fagor that has received top ratings by goodhousekeeping.com. It's super safe and amazingly quiet!
Made from stainless steel, the cooker's six quart capacity is sufficient for the entire family's meal.
It has 12 preset buttons:
Pressure Cook (high and low)
Slow Cook (high and low)
Yogurt Maker
White Rice
Brown Rice
Risotto
Simmer
Steam
Saute
Brown
It comes up to pressure in about 30 minutes, which is very fast, so you can have a great meal in under an hour. It beeps when it reaches pressure and the timer starts counting down.
Pressure drops in three minutes using the quick-release mode and Keep Warm function goes on automatically.
Removable non-stick ceramic cooking pot is dishwasher safe, PFOA free and FDA safe. It also has a handy measuring guide inside.
All in all it is an awesome cooker with so many great features.
SPT 6.5-quart Electric Pressure Cooker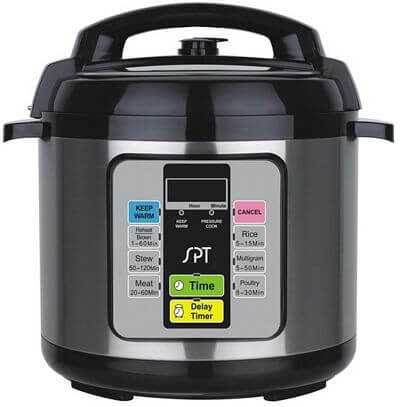 It is a pressure, rice and thermal cooker in one great appliance. It features six adjustable cooking programs:
Rice
Multigrain
Poultry
Meat
Stew
Reheat/Brown
Two other great features are stainless steel inner pot and up to 24 hours Delay Timer so you can prepare the food and have it ready at a later time.
It is amazing to cook a roast and veggies in 20 minutes, while retaining all the flavors of each item.
Kalorik Electric Pressure Smoker And Cooker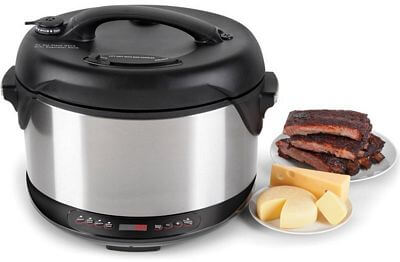 It brings outdoor cooking to indoors! You can use it as a smoker, slow cooker, pressure cooker or steamer.
You can cook barbecue brisket in only one hour – five times faster than traditional methods.
People use this 6.5qt unit to infuse meats, cheeses or vegetables with a delightful smoky taste.
The device increases pressure by 15psi while causing wood chips to release their fragrant, flavor-enhancing, authentic barbecue smoke. Smoke is contained inside the chamber during cooking.
It uses hot or cold smoking methods inside non-stick aluminum pot. Pressure cooker feature can be set to high, medium, or low.
It also has the automatic keep-warm feature and the delayed start function to prepare meals while you are at work.
The device is really well engineered and produces excellent results. This product should be first on your buying list if you like smoked foods.
About Pressure Cookers
A pressure cooker is a busy cooks best friend because it can cut up to 70% of the cook time. It's best used for things that typically take a long time to cook, like pot roast or brisket, dried beans, which you don't even have to soak before they go into the electric pressure cooker. Also, tough vegetables like beets or rutabagas and chicken stock which can go from a 4-hour project to a 1-hour project.
Different pressure cookers will be designed a little differently but basically they all have the same main parts.
There is a lid which locks into place. On the inside of the lid is a rubber gasket which has to be in place, that's what allows the steam to stay in the pot and not escape out into the kitchen.
Every pressure cooker is going to have lots of safety mechanisms built in so don't be afraid of them. When you put the lid on, it will lock in place and you'll feel it lock in place.
Here's why a non stick pressure cooker cooks foods so quickly.
In typical cooking, water comes to a boil at 212 degrees and no matter how long you boil, the water stays at 212 degrees. In a pressure cooker though, the boiling point is raised to about 250 degrees.
Cook times for different foods will be different depending on the make and model of your electric pressure cooker so be sure to refer to the user's manual.
Please share on Pinterest: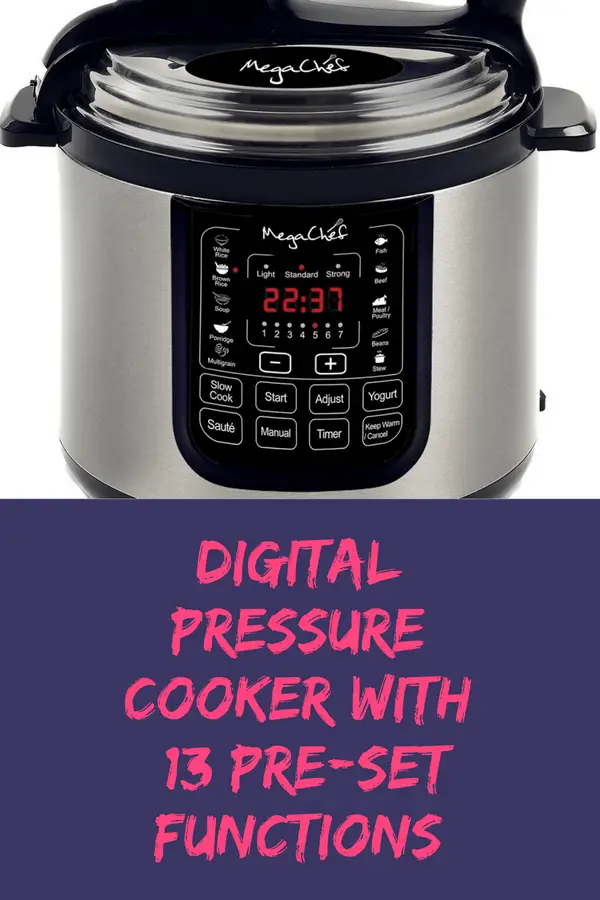 See other kitchen appliances:
8 Qt. Non Stick Electric Pressure Cooker (Stainless Steel)