Today we're gonna be talking about the best dark spot corrector serum – SkinMedica Lytera 2.0 Pigment Correcting Serum. It's Allure's 2017 Best of Beauty Award Winner.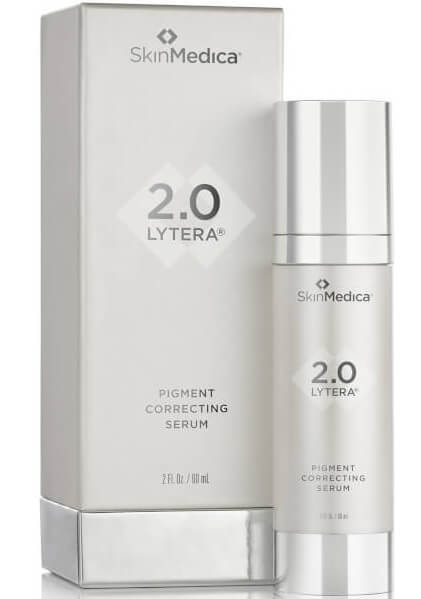 If you're familiar with the SkinMedica brand already then you probably have already heard about the original Lytera product.
They do not make the original Lytera anymore. What they did was they made the Lytera 2.0. They completely reformulated it, they took new scientific technology and new scientific ingredients and put that into the new Lytera serum.
There's only two of the same ingredients in this new one as compared to the old Lytera. So it's completely different dark spots correcting cream.
If you're not familiar with the SkinMedica Lytera treatment, it's a pigmentation correcting serum. It's made to really even out the skin tone, it's made to lighten hyperpigmentation you have.
The difference between the original Lytera and this new Lytera lightener is that the first Lytera had retinol in it. This has no retinol in it whatsoever.
Neither of the Lytera has any hydroquinone in them so that's the same thing but the difference is that this one has no retinol based ingredients in it. Some people just couldn't handle that with the first Lytera. So there's no hydroquinone, no retinol ingredients in the 2.0.
The other main big difference between the original Lytera and this newly reformulated Lytera is the fact that this new one will address any discoloration issues, no matter your ethnic background, no matter your skin condition. It will address hyperpigmentation from all causes.
That fact alone is really unique and really different from any other products in the skincare world today.
What is hyperpigmentation?
Hyperpigmentation is the clinical term for the uneven darkening of the skin. Some people will call it dark spots, the blotchy dark areas of skin that can pop up as you get older. Hyperpigmentation just gives your skin that brown unevenness to it.
The new Lytera 2.0 is going to address all the different background issues of why you are getting that discoloration with your skin.
Many things can contribute to skin discoloration. There are external factors and there are also internal factors.
External factors being the sun, pollution and inflammation to the skin, while the internal factors are going to be hormones, your ethnic background and even genetics. Natural pigmentation levels can differ because of your genetics.
The Lytera 2.0 is going to help with your skin, evening out your skin, any hyperpigmentation issues with any of that background. It breaks up existing pigment and stops the production and spread of new pigment.
Improvements have been seen using this product in as early as two weeks with more dramatic results at 12 weeks. This is gonna be super beneficial for anybody who doesn't want to use hydroquinone on their skin. Some people's skin can just not tolerate hydroquinone because it's a very potent ingredient.
Meladerm Before & After Pictures
Before and After Using The Best Treatment For Dark Spots on Face
Results after 2 weeks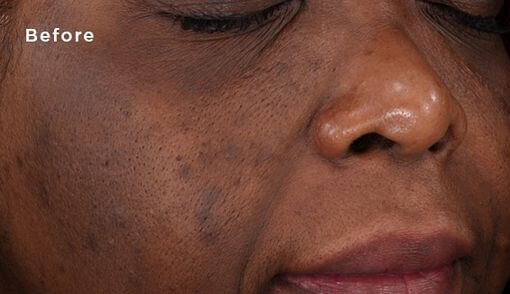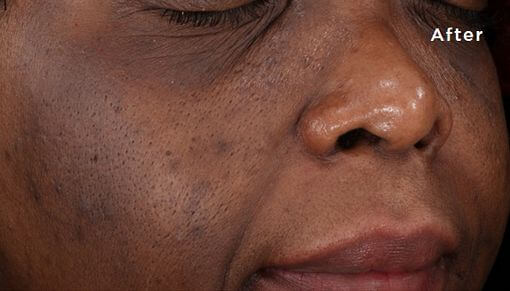 After 4 weeks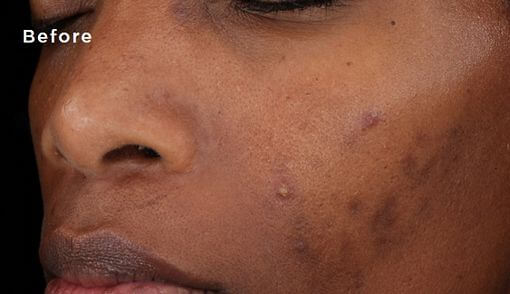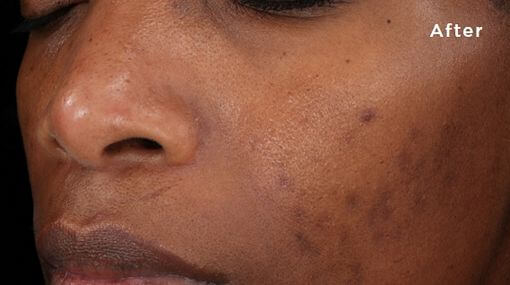 After 8 weeks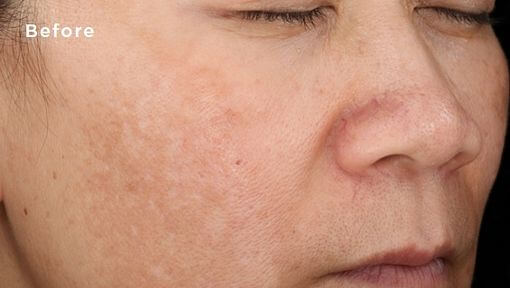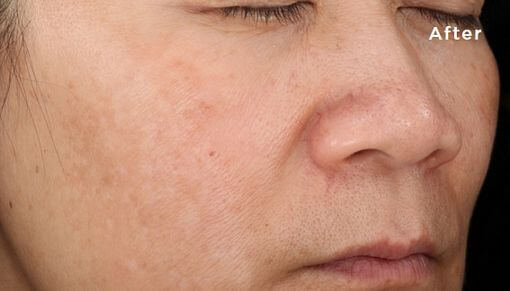 After 12 weeks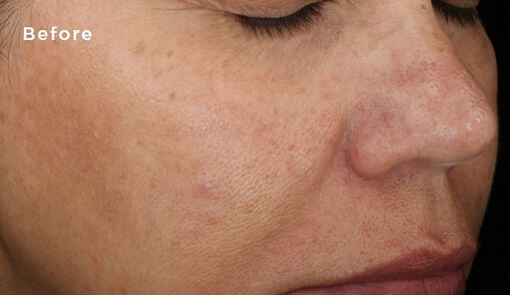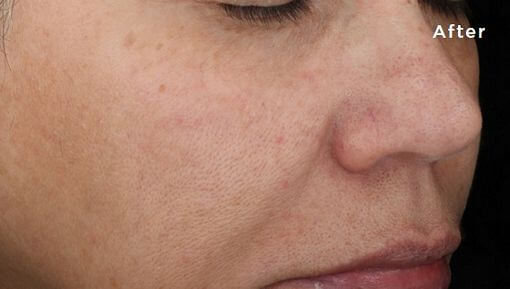 Click Here to Buy + Free Shipping!
Also if you have used the hydroquinone in the past and you want to maintain those results, this is going to be an amazing option for you.
Also if you had chemical peels or laser therapy procedures, anything like that, to really help your skin tone, this is going to be great to maintain those results as well.
This can also be used on all skin types, whether you're oily, whether you're super dry and even on sensitive skin. You can use this post procedure, if you just had a chemical peel or a laser treatment. That is how gentle this is for the body skin.
So it's good for anybody.
You do get two fluid ounces of brightening serum and you do get a nice pump a bottle. It comes out in a really nice serum and it's a little bit runny.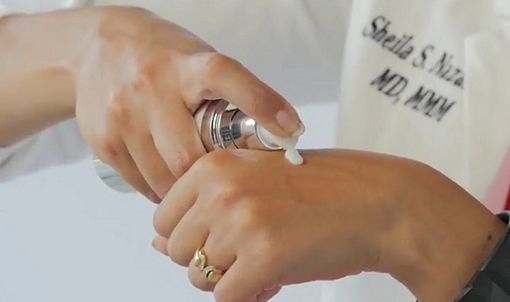 When you blend this into your skin it just melts and blends right into your skin. You're not left with any sticky feeling on your skin. It just soaks really right into your skin.
And you are left with a glowing skin tone when you are using this product as well. That's one thing I've noticed. Every time I use it, my skin just looks extra radiant.
You can use this once a day or you can use it twice a day. You can also use it with hydroquinone products. You can also use it to blend with your retin-a or retinol as well.
So it's got a wide variety of uses but if you do have a stubborn dark spots and you want something gentle yet super effective then this is why they came out with the Lytera 2.0.
I know I've been super excited about this serum. I've been using it now for a couple of weeks. I've even used it right after I had my laser procedure and it was wonderful on my skin, even right after my laser.
Nice thing about this product is that it's very well studied. They actually compared this product to a bunch of other really popular lightening products all over the world, including Asia and this outperformed all of them.
Lytera 2.0 has been broadly tested in 9 clinical studies, with 200 people of different ethnicities and skin types.
According to the data published in the Journal of Drugs in Dermatology, Lytera 2.0 reduced melanin levels by 45% after just two weeks. That result is comparable to prescription-strength hydroquinone.
User feedback
95% said it diminished the appearance of dark spots.
95% said it lightened the darker blotches of their skin.
100% said it made their skin tone look more even.
100% said it worked well with other products.
These great results are achieved because this skin lightening treatment has a cocktail of proven ingredients that work on most types of brown discolorations.
I started using the product every day, all over my face.
After a month and no irritation whatsoever, my dark patches are noticeably lighter. They are not removed, maybe they never will, but they're not the first thing I notice when I look in the mirror.
Key Ingredients of the Best Dark Spot Corrector Serum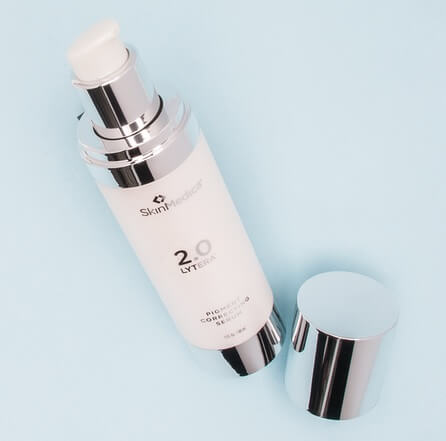 Tranexamic Acid – corrects the appearance of hyperpigmentation.
Phenylethyl Resorcinol – supports melanin balance to correct the appearance of hyperpigmentation.
Niacinamide & Tetrapeptide-30 – prevents the appearance of new spots while visibly balancing the appearance of your skin tone.
Marine Extract Blend – corrects and prevents the appearance of hyperpigmentation while supporting a healthy skin barrier.
Phytic Acid – enhances skin texture and promotes even-looking skin.
All of these ingredients are proven to be effective by many studies indicating their worth for treating dark spots. In addition, their role in preventing future discolorations is also established by researches.
How to Use Top Rated Dark Spot Corrector Serum
Apply one pump two times a day (in the morning and evening) after cleansing your skin, but before applying moisturizer and sunscreen. You can apply the serum to the entire face, neck, chest, legs or other affected areas.
In the end, consider SkinMedica Lytera 2.0 Pigment Correcting Serum if other dark spot treatments did not work for you. Also remember that you can use the serum with topical products that contain hydroquinone, still the best solution to fade dark marks.
Be patient and results will come. Be sure to apply sunscreen every day so you don't end up being counter-productive.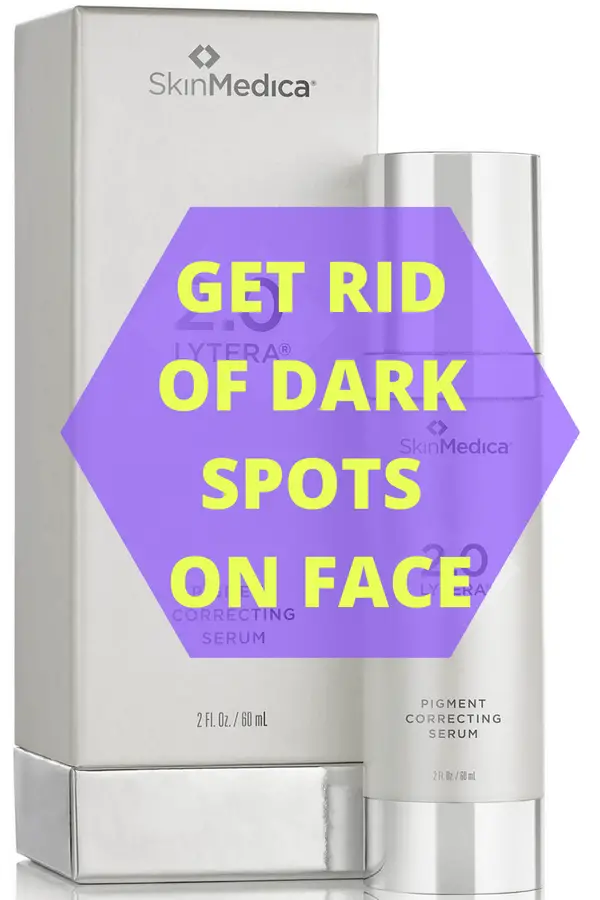 Best Eye Cream For Wrinkles and Fine Lines
BEST Dark Spot Corrector Serum (Miracle in a Bottle!)