What are the best bed sheets to buy? The answer is actually pretty easy.
Miracle Sheets!
They are infused with natural silver fibers that reduce bacterial growth.
They are also made with high-quality Supima cotton that features extra-long fibers that enhance softness and durability.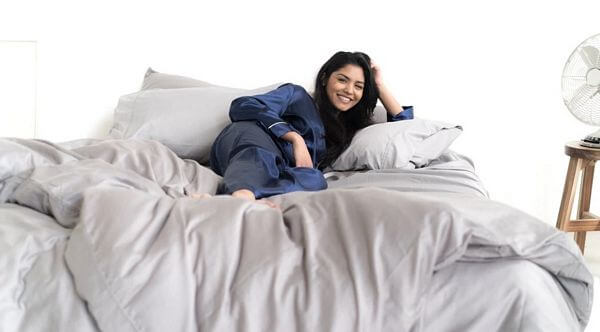 The silver also eliminates bad odors, resulting in less need for washing.
Miracle offers two sheet sets: Signature and Extra Luxe. The Signature Sheets feature a percale weave, while the Extra Luxe Sheets have a sateen weave and higher thread count.
Both sets are available in three neutral colors: white, sky blue and stone.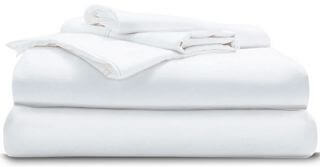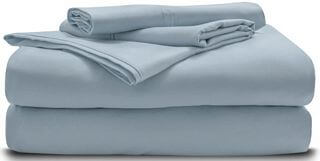 At the time of writing this article, out of 1090 reviews, there are 967 5-star ratings. 105 are 4-star ratings.
You can buy the sheets exclusively through their website. There are no brick-and-mortar locations.
Miracle provides free shipping, a 30-night sleep trial and a limited 5-year warranty.
How to Buy Sheets
When it comes to learning how to buy sheets, there are many factors to consider. Bed sheets are one of the most underrated items of home bedding. Many people buy sheets based solely on their color. Some more "sophisticated" customers look at the thread count and the quality of the stitching. Is that enough? Let's look at some other factors to consider when bed buying sheets in order to get a better night's rest.
There are many factors to consider when comparing sheet sets. The element that most people consider most important is the thread count. The more threads, in general, the softer the feel of the sheets and the longer they will last. However, this is not always true. You can have a 1500 thread count sheet set that is weaker than a 400 thread count sheet set.
In addition to thread count and color, you should consider the material, weave, depth and all the elements that make up the different types of these products.
Buying Sheets According to Their Raw Material
There are many materials from which sheets are made today. These are the most popular ones:
Cotton: Cotton is the most common material used in sheets. The best type of cotton for bed sheets is Egyptian cotton. Egyptian cotton plants (known as "long staple" cotton) produce, as the name implies, longer than usual strands used to make high quality yarn. This is a good value for Egyptian cotton sheets.
Microfiber: Microfiber is a synthetic fiber composed of polyester and sometimes nylon fibers. It tends to last a long time although it is not as comfortable as cotton. The biggest benefit of microfiber sheets is their price. Microfiber sheets are among the easiest sheets to find. There are high quality children's sheets that mix cotton and microfiber.
Flannel: Flannel is usually made from wool but can be combined with cotton or other synthetic materials. Technically flannel is a type of fabric and not a material itself. Flannel sheets are especially popular during the winter months because of how good they are at keeping you warm, although they are also used in summer in areas where it cools off at night. Unlike other materials, flannel sheets do not usually specify the number of threads they carry but rather the weight in a given area, usually grams per square meter.
Silk: Silk sheets have a very soft feel and, with proper care, last a long time. However, caring for silk sheets requires considerably more work than any other type of sheets. Silk sheets should be washed by hand the first few times to "loosen" them. In the following washings, in the washing machine, we must choose the program for delicate clothes with cold water and use detergent for delicate clothes. In addition to this effort when washing them, silk sheets are expensive. This is why most people do not use silk sheets.
How to buy sheets by type of fabric
Apart from the material the sheets are made of, the type of fabric they are made of determines how they will feel and how durable they are. Here are some of the most popular ones.
Percale: Percale fabric can be said to be the "standard" fabric where the vertical and horizontal threads cross over each other one at a time. Percale is durable and has a clean feel.
Satin: This fabric gives the sheet a softer, silk-like feel, but has the disadvantage of being short-lasting. In this weave, the threads cross over four others and then pass under the next one. This fabric is called sateen if it is made of cotton or other similar material, otherwise it is called satin.
Satin: The same type of fabric as sateen but made of nylon, polyester or silk.
Knitted: Knitted sheets are made in the style of T-shirts. They are soft and comfortable but can shrink (like T-shirts).
Mattress height
Another element to consider is the depth of your mattress. If your mattress is soft and you sink when you lie down (like some viscoelastic mattresses for example) you should take into account the measurements of the sheets and check that they are designed to fit your type of mattress.
The label usually states the height or depth of the sheets and you can also ask the salesperson at the store for advice on which sheets are best for your mattress type.
For example, if your mattress is 20 cm and the sheet says it is suitable for 20 cm mattresses, it is possible that if your mattress is soft, the corners of the sheet may come loose, especially if you sleep close to the edge.
The added weight of a person lying on the mattress will cause the sheet to come loose if it was too tight to begin with. At the same time, don't buy a sheet that is much larger than your mattress. The sheet will end up forming a mess on the bed creating irregularities on the surface that will bother you when you sleep.
Extra elements
Some sheets include extra elements to make them more attractive. For example, some types of sheets have elastic bands at the bottom corners to keep the mattress even tighter. This is often especially useful if you have a motorized bed.
Others claim to be anti-wrinkle or anti-allergenic (this comes with the type of material they are composed of). Take a look at these extra elements to help you decide what type of sheets to buy.
How to buy sheets by price
Price is undoubtedly important when it comes to buying any household product as it affects the household economy. In order to make your search easier, here are several types of sheets classified according to their price:
Sheets between $10 and $40
Sheets between $40 and $75
Sheets between $75 and $100
Sheets over $100
Conclusion
In conclusion, do not rely solely on thread count and color to make a decision when buying sheets that are best for you. A sheet with a low thread count but made of Egyptian cotton with sateen weave has a much better feel and will last longer than a 1500 thread count microfiber sheet. If you are buying online, ask for the specifications if they are not clearly visible in the description or any of the photos.