In this article you will find out about the best battery powered heated clothing that will keep you warm and cozy even on the coldest winter days.
What kind of battery operated heated clothing you need:
Best Battery Heated Socks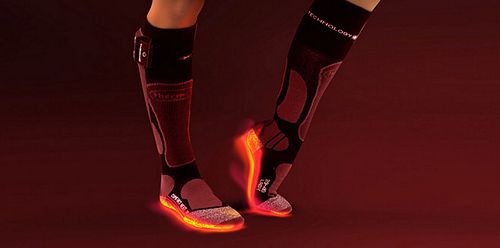 Lenz 5.0 heated socks are #1 selling battery heated socks in the world. They are designed by Austrian engineers and tested in European Alps. Ultralight lithium-ion batteries will heat your feet up to 14 hours! You can regulate heat on the remote control or via smartphone.
Hotronic XLP ONE electric heated socks feature heating element that starts within the cuff, positions itself along your lower leg, wrapping around the Achilles and under the arches and delivering heat to your toes and balls of feet. Lithium-ion battery pack provides up to 13 hours of heat.
Gobi Heat battery powered heated socks provide heat at the toes. They are thick, cozy and fit perfectly into boots or shoes. There are 3 different heat settings and they are operated by a remote control. Batteries run up to 12 hours on a single charge.
Mobile Warming battery heated socks are considered one of the most comfortable pairs you can buy.
You can keep your feet at the perfect warmth using a wireless controller. You can select up to 3 heat settings to enjoy up to 11 hours of warmth. They feature antibacterial construction that prevents odors.
Volt battery operated heated socks are made with a moisture-wicking micro polyester to keep your feet dry. Spandex interlock fabric forms to the foot for a great fit. Provides up to 10 hours of soothing warmth. The battery comes with a built-in microprocessor controller with 4 power level settings.
Gerbing heated sock liners warm your entire foot and also wicking moisture to keep you warm and dry. Keep in mind that these heated socks will put out serious heat and you will need to use the controller on the battery to regulate for optimal thermal comfort. Up to 10 hours of heat.
ActionHeat battery operated heated socks combine quality and comfort. They reach a maximum temperature of 140F and can last up to 8 hours. They are made up of wool and cotton. Heating panels are placed on the top of the toes and use ultra-fine fibers to provide heat.
Therm-ic PowerSock is made of high-tech material. They guarantee effective distribution of heat to the whole of the foot. They have an anatomical design for a perfect fit. Thin batteries provide up to 8 hours of heat.
California Heat battery heated sock liners are designed to be worn over a very thin sock, providing a comfortable fit while wearing your favorite footwear. Heating elements start at your ankle and then wrap around your toes and under your foot. Max heat is 135F and batteries last up to 11 hours.
Capit WarmMe electric heated socks use an infra-red heating technology and they have heating carbon elements that contribute to diffuse the heat homogeneously. Sporty look and very technical, they are resistant and soft. They can maintain the foot area warm up to 6 hours.

Best Battery Heated Slippers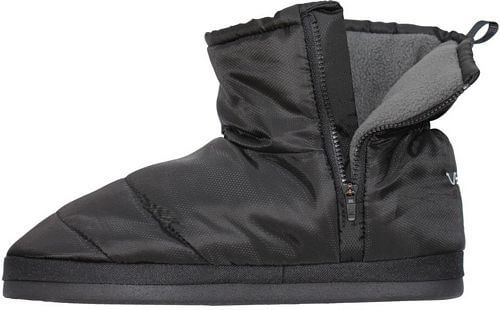 Volt Heat Generation 4 battery heated slippers. Unlike previous generations, this model is now super easy to slide on and off thanks to a zipper on the side. The zipper runs from the top opening down to the sole. They have two rechargeable lithium batteries, which can be operated with a wireless remote that controls the temperature settings. Each battery provides up to 7 hours of heat.
The heating system is integrated in the foot bed of the slippers and runs from the tips of your toes to the beginning of the heel. Because they have the durable rubber outsole, you can also use them for light duty outdoor activities to keep your feet toasty warm. Ripstop Nylon upper shell fabric is treated with a finish for wet weather protection.
The insole features memory foam, making the Gen 4 the most comfortable electric heated slippers. Added comfort is ensured by fleece lining. This is unisex design – both men and women can wear these rechargeable heated slippers.
Volt Heat Smart electric heated slippers have a faux fur lining that helps insulate and trap in warmth. It has a durable, non-slip outsole for light duty outdoor use. The most important feature is the smart thermostat technology, which self-regulates the temperature in between a preset range. This allows you to just simply turn the slipper on and enjoy the heat without having to touch it again. Batteries last up to 4 hours on a single charge but this can vary with ambient temperature.
Glovii rechargeable heated slippers with socks. The heating element is constructed from carbon fibers that emit infrared waves, positively effecting blood circulation. These fibers also provide exceptional reliability and durability. A safe and economic battery powers the heating system for up to 6 hours. Heated area is the bottom part of the foot. The sole includes anti-slip elements to increase the safety of use.
FNDN heated slipper socks can be worn by both men and women. Thy have 3 different levels of warmth with 5 hours continuous run time. They use rechargeable BEGO battery that is the smallest and lightest in its class. They have non-slip textured, padded bottoms that are very comfy.
Stay Warm Memory Foam electric heated slippers keep your feet toasty for 4 hours on low setting!
In addition to the awesome warmth, your feet will be comfortable and relaxed in luxury memory foam soles. Memory foam contours to your feet for ultimate comfort.
ActionHeat battery heated slippers are the only open back heated slippers on the market. They run on 6 AA batteries and will heat up to around 120ºF for 4 hours. They have strategically placed heating elements that use ultra-fine fibers. An integrated heating system is located on the bottom of the foot. Weather-resistant fleece and fleece lining provide additional comfort.

Best Battery Heated Insoles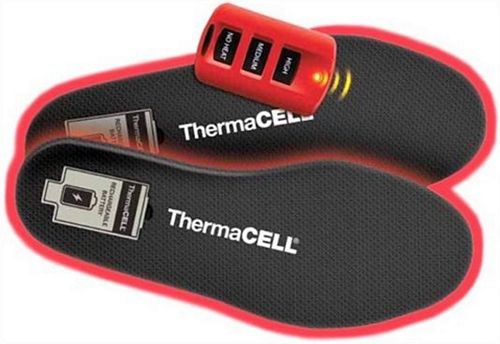 ThermaCELL Proflex rechargeable heated insoles use high-tech wireless technology and thermal heating elements. They keep your feet warm and comfortable for up to five hours per charge. Controlled by an easy-to-use remote control, the insoles offer three temperature settings: high, medium and no heat. They feature internal thermostat to regulate temperature. Removable battery comes out without removing insole from footwear. Fit easily into your boots, shoes, or waders.
ActionHeat electric heated insoles come with built-in, ultra-fine heating panels strategically placed under the toes. The easy-to-use remote controller has 3 heat settings and the insoles can last up to 8 hours while reaching up to 130F with a push of a button. Fit in all types of footwear, shoes, and boots.
ThermoSoles battery heated insoles provide instant warmth and excellent cushion for ultimate winter comfort. They are engineered with integrated thermostat to detect your foot's actual temperature and adjust accordingly. Enjoy the benefits of a shock-absorbing and ergonomically shaped bottom to achieve complete comfort. Each heated insole includes a built-in Lithium-Ion rechargeable battery with and on and off switch.
Digitsole Warm Series heated shoe insoles are ultra light and comfortable. Using a dedicated application, you can regulate the temperature in your shoes and keep a precise count of your daily steps, distance and burned calories. Warm your feet up to 113°F for 8 hours.
Flambeau Hot Feet heated boot insoles warm your toes for up to 8 hours. Heating elements run from ball of foot to toes. They are powered by built-in Lithium rechargeable batteries. You can use a remote control with 3 heat settings.
Glovii battery heated insoles with remote control that allows you to adjust temperature with the touch of a button and without having to take off your shoes. Enjoy 7 hours of warmth during any outdoor winter activity. Fits in all types of footwear, shoes and boots
Torch Anseris Outrek rechargeable heated insoles feature sophisticated heating technology with rechargeable, smart lithium ion batteries that bring you adjustable heat that lasts for up to 6 hours. A convenient, pocket-sized remote control makes it easy to adjust the temperature. The heating technology utilizes the safest, high-tech micro-wires.
Therm-ic Heat Kit are fitted with ultra-fine heating elements to diffuse constant heat. The Heat Kit integrates into almost any existing insoles, transforming them into heated insoles. The batteries provide up to 17 hours of heat. They are also fitted with the Bluetooth function, enabling you to remote-manage your heating via smartphone. The battery features three heat settings.
Hotronic Power Plus S4 heated insole kit gives a boost of warmth to ski boots, snow boots, work boots or even a regular pair of sneakers. You can cut the Heat Ready insole to fit any footwear and the heating elements stick to the toes or heels for warmth. The battery packs provide almost an entire day's worth of warmth.

Best Battery Heated Gloves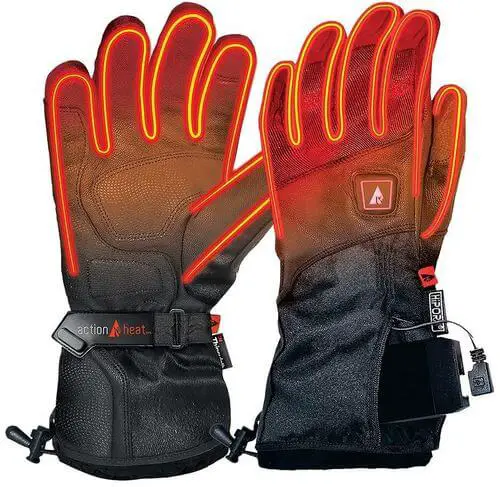 Zanier Aviator GTX electric heated gloves have the maximum heating period of 20 hours! Impulse control stimulates blood circulation to the fingertips. The batteries offer high performance even under extreme temperatures and are waterproof as well as shock-resistant. Touch function on the thumb and index finger enable easy handling of your smartphone.
Volt Heat Titan rechargeable heated gloves will not only provide warmth throughout the entire length of each finger but also heats the back and palm sides of the glove surrounding your hand with warmth. The outer shell uses a rich black waterproof leather. Provides over 150 degrees of soothing heat for up to 12 hours.
Mobile Warming Barra battery operated heated gloves are designed for extreme winter weather. They feature premium goatskin leather and utilize slim batteries for a comfortable fit. Up to 10 hours of heat per charge. The glove also features anti-static technology and is touchscreen compatible.
Gerbing Gyde battery powered heated gloves feature full front-and-back heating that runs all the way to your fingertips for a premium warming experience. These perfectly designed gloves are lightweight, durable, stylish, and provide world-class heating performance. They are finished with a water-resistant membrane. They provide up to 8 hours of heat.
Glovii GS5 battery heated ski gloves are made of waterproof and breathable outer membrane. The inner side is reinforced with additional gussets made of leather in order to ensure the best quality grip. Two durable batteries allow for maximum 8 hours of work. The heating element is placed on the outside of the hand.
Venture Heat ALT battery heated gloves have the ultra-thin micro-alloy heating panels that extend from the back of the hand down to each fingertip, warming your entire hand for up to 8 hours. To keep your hands even warmer, the gloves are both water and wind resistant. The index finger and thumb are touchscreen friendly.
FNDN heated snow pro gloves have been developed for over 2 years to get it just right. These gloves are extremely warm without the heat feature turned on but are designed to keep you enjoying the outdoors so turning on the heat will give you up to 5.5 hrs of warm relief.
ActionHeat Premium heated winter gloves feature an innovative design and weathertight construction. The gloves can last up to 5 hours and can get up to 150F. They provide finger and thumb heating elements. They use the unique 5V power bank technology.
Lenz Heat Glove uses integrated heating elements that deliver excellent heat and warmth to all your fingers. Heat can be continuously regulated remotely via smartphone. Heat development for up to 10 hours. They are touchscreen compatible and comes with integrated spectacle-cleaning element.
California Heat electric heated gloves have heating elements that are located on the top and bottom of hand, from wrist to finger tips. These waterproof and windproof gloves have batteries that last up to 10 hours.

Best Battery Heated Mittens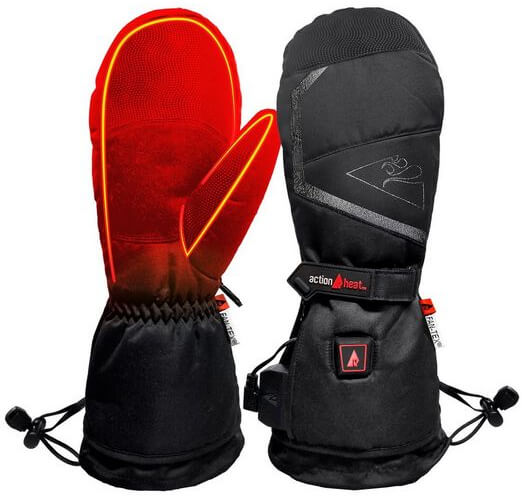 Gerbing Gyde S7 battery heated mittens are premium in every sense of the word. Premium leather, premium fit, premium style, and premium heating performance. They give you up to 8 hours of heat with supreme flexibility. Heating on both palm and back of your hand. Control the temperature via the three-level switch built into the glove.
ActionHeat electric heated mittens provide circulating warmth and comfort. The heating elements are perfectly positioned along your fingers and thumbs so the heat circulates throughout your entire hand. Slim batteries fit into a discreet pocket on the extended gauntlet. With 3 heat settings, the mittens will reach a maximum temperature of 145F and can last up to 5 hours.
Volt Heat rechargeable heated mittens are designed to be easily taken on and off. They heat the back and palm of the hand including the thumb. Built-in 4 level microprocessor controller to easily select desired heat output. Provides up to 10 hours of heat per charge.
Zanier HOT STX battery heated mittens are based on highly developed textile heat elements and a unique electronic control system. The robust lithium ion batteries which weigh just 60g provide heat at three different levels for up to 10 hours. The heating system is robust and even withstands hard knocks. A touch function on index finger and thumb.
Glovii electric heated mittens use the heating element that is constructed from carbon fibers offering extraordinary reliability and durability as well as medical properties, thanks to infrared waves. A safe and economic battery provides a long time of operation. The mittens are made of a waterproof and breathable external membrane. The heating element is located at the top of the hand.
Venture Heat OHM rechargeable heated mittens feature a soft shell exterior, with a leather grip palm. They trap natural heat but have the breathability to reduce moisture. They have a slimmer design, which gives you a tighter fit and are both water and wind resistant. Heating panels woven on the top of the hand to the end of the fingertips and thumb.
Black Diamond Solano heated mitts feature a heating system that covers both your hand and wrist to increase warmth. The heat source is oriented perpendicular to the blood flow in the wrist. The heating element wraps around the inside of the wrist, which increases the mitt's warmth and your body's ability to warm itself.
Seirus Heat Touch Hellfire battery heated mittens will run for up to 12 full hours on a low setting, and 8 on the medium. These great gloves are comfortable to wear and have a quick temperature control button to adjust your heat.
Lenz Heat Mittens are light, robust, breathable and insulating. All your fingers are heated up. Heat can be regulated via 3 settings on the battery pack or remotely via smartphone. These great looking heated mittens have a unisex fit.

Best Battery Heated Jackets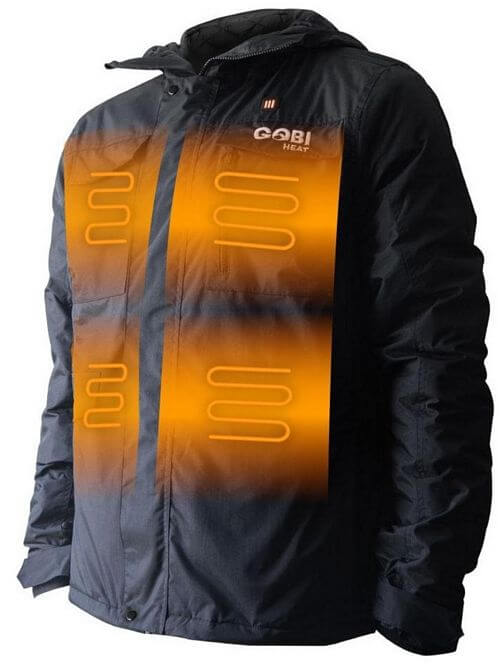 Volt Heat Summit electric heated jacket uses the Zero Layer Heat System strategically placed in 3 key zones – both sides of the chest and between the shoulder blades. It's made of 90% down and 10% feather. The jacket is powered by a 5 volt USB power bank battery that can be found at retail stores. Provides up to 5 hours of heat.
Milwaukee M12 Toughshell battery powered heated jacket pairs state-of-the-art carbon heating elements with multi-layered fabric technology. Wind and water resistant, the jacket's carbon fiber heating elements heat core body area and pockets. Up to 6 hours of continuous heat on a single charge.
ActionHeat battery heated jacket is using the 5V signal technology that allows for most 5V batteries to be used. The power bank powers your garment and can also charge your phone. 3 built-in heating panels are strategically placed on the chest and upper back to warm your core body temperature.
Gobi Heat Shift heated winter jacket uses a 5-zone heating system – 4 in the front (chest and behind the lower pockets) and 1 large zone in the back. Ultra-slim battery runs all 5 zones for up to 9 hours on a single charge. Made of wind and water resistant polyester fabric, with 5 outer zip pockets.
Venture Heat Escape heated softshell jacket is lined with an ultra soft plush fleece which not only traps the heat but also takes comfort to another level. It is water resistant and windproof. Three heating elements (one on back and one on each chest) are powered by rechargeable battery for up to 11 hours.
Mobile Warming Alpine heated softshell jacket has three heating panels placed on the front and back and keeps you warm for up to 10 hours. The lightweight construction makes it best for all types of outdoor activities. Mesh lining wicks away moisture during strenuous activity.
Kelvin Jackson battery heated jacket features an advanced heated technology with 5 core warming zones – right chest, left chest, right pocket, left pocket and mid back. Heating time is up to 10 hours. Featuring a durable water resistant exterior and polar fleece interior.
Ororo electric heated jacket with detachable hood could be worn in all seasons – on cool fall nights, through the freezing winter and in the mild springtime months. Battery works up to 8 hours. Carbon fiber heating elements on left and right chest and mid-back. It's water-proof and wind-proof.
My Core Control softshell heated jacket uses patented technology that gently warms the blood as it passes through your wrists and is circulated back to your heart and is then pumped throughout your entire body from head to toe. Up to 12 hours of performance.
Gerbing battery heated ski jacket features the most advanced on-sleeve heat control. This wind blocking, waterproof and seam sealed ultra-light jacket contains battery that lasts up to 10 hours. Also features a helmet-compatible hood.

Best Battery heated Vests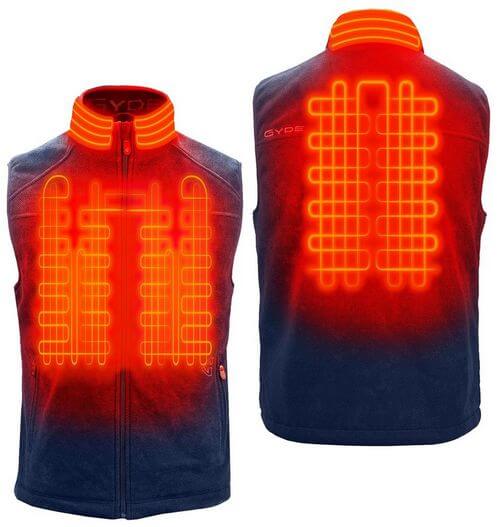 Gerbing Gyde Thermite fleece battery heated vest is one the best selling heated vests of all time. It is powered by Microwire heating technology that provides best-in-class heating efficiency and performance. Reaches temperatures up to 135F. Battery has 4 heat-settings and maximum heat time is 8 hours.
Mobile Warming Taylor lightweight softshell electric heated vest features a new touch-button heating technology, enabling you to adjust the temperature settings quickly and easily. The vest gives you 4-way stretch flexibility and breath-ability while also being water-resistant. This vest is made from lightweight materials so it's great for all types of outdoor activities.
ActionHeat puffer rechargeable heated vest is the perfect blend of fashion and utility. You can now look stylish while staying warm and cozy in all conditions. The vest comes with a super powerful 5-Volt Power Bank. This power bank powers your garment and can charge your phone. A one-touch LED button with 3 different heat settings.
Volt COHO fleece battery powered heated vest utilizes a 3 zone heating system and patented design to provide heat in the key body areas. The vest is powered by a rechargeable lithium battery pack with built-in microprocessor controller that allows you to regulate the temperature output between four different levels. Provides up to 170 degrees of heat.
Ororo lightweight battery operated heated vest includes a powerful rechargeable lithium battery pack that can be used as a power supply for your phone. Up to 8 hours of comfortable warmth. It has 4 heat panels: one around the neck, two in the underneath pockets and one large panel in the mid back.
Capit WarmMe battery heated vest is manufactured with soft-shell fabric and is thin, resistant and stretchy. It has a double external layer that is waterproof and wind-blocking. Flexible heating carbon filaments are strategically positioned in specific areas, in order to maintain a comfortable temperature. The battery powers the heating circuit up to 7 hours.
FNDN Unisex PRO electric heated vest uses nano-tech micro-fiber stainless filaments that are the cutting edge in heated wearables. It has heating elements in 3 zones: chest, back and neck. You can fine tune the temperature inside the vest while maximizing battery life. 6 hours of constant warming off a full battery charge.
Lenz rechargeable heated vest is very unique because of its low-profile fit that can be worn as a mid-layer or as a stand alone heated vest. It has two heating elements in the kidney and back area. Disperses moisture perfectly and dries out again quickly. Heat can be continuously regulated remotely via smartphone. Heat development for up to 20 hours.
Mobile Warming heated work vest with classic look and heavy-duty construction. Designed for a rancher, construction worker, lineman, or anyone who works outside for extended periods in cold weather. It has lots of pockets for storage. It reaches a maximum temperature of 135°F. It can heat up to 11 hours!

Best Battery Heated Hoodies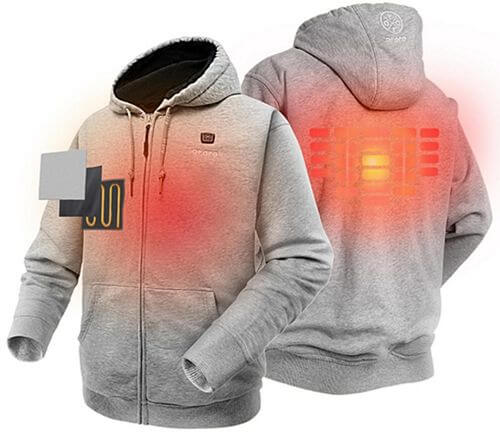 ActionHeat battery heated hoodie comfortably heats you through three zones; two in the chest and one in the back. A one-touch LED button with 3 different heat settings provides easy heat controls on the hoodie. The small, but powerful 5-Volt power bank provides up to 5 hours of heat. The hoodie is of the highest quality materials combining a plush cotton/polyester exterior with an ultra-soft fleece lining.
Volt Heat Omega electric heated hoodie is a perfect sweatshirt for daily use. It uses the Zero Layer Heat System that maximizes heat transfer. This hoodie won't lose its shape and will stay looking sharp. You can choose between 3 different settings. You will feel heat in 4 zones which will be upper back, lower middle back and each pocket. Rechargeable battery provides soothing heat for 5 hours.
Gobi Heat Ridge heated hoodie has 3 heating zones – 2 in the chest and a large zone in the back. One-touch LED controller with 3 different heat settings: low, medium, and high. It uses carbon-fiber heating elements with flexible design that moves with you. Battery runs up to 10 hours on a single charge.
Milwaukee Performance electric heated hoodie provides powerful warmth, comfort and durability. This great heated hoodie includes a 12V rechargeable battery pack as well as a 12V motorcycle battery harness so you can bring the heat with you while riding or doing any other outdoor cold weather activities. Front and back heated panels with waterproof construction.
Mobile Warming Phase heated hoodie looks great in any activity. The light-weight shell with 65% cotton fleece is soft and warm. Powered by a rechargeable lithium-ion battery with large heat zones that keep you warm for up to 10 hours. It features a Bluetooth enabled touch control button. Use the app to change temperature or check battery levels.
FNDN Zip-Up heated hoodie is capable of withstanding piercing cold temperatures by providing heat throughout the hands, torso, and upper back. It is built with an extremely durable exterior. Customize your heated zones with the dual-zone controller. One button with 3 heat settings for the chest and back and the other button control with 3 heat settings for the hands. Up to seven hours of warmth.
Comfort Wear Super heated hoodie has the first in the world heated hood to keep your head warm. The LED double control button allows you to operate heat zones (chest and hood areas) independently of each other so that you can customize your heating experience. Using the latest fabric technology, this hoodie is waterproof and windproof.
Ororo heated hoodie uses 3 carbon fiber heating elements to generate heat across core body areas (left & right chest, mid-back); Adjust 3 heating settings with just a simple press of the button. Heats quickly in seconds, up to 10 working hours. Quality cotton fabric exterior with fleece lining ensures you don't lose any heat.
Venture Heat Evolve heated hoodie combines comfort, warmth and style with micro-carbon fiber heating elements on each chest and back. The entire heated hoodie is lined with a soothing plush fleece, including the sleeves and hood.

Other battery powered heated clothing, such as pants, base layers, hats and scarfs can be found here.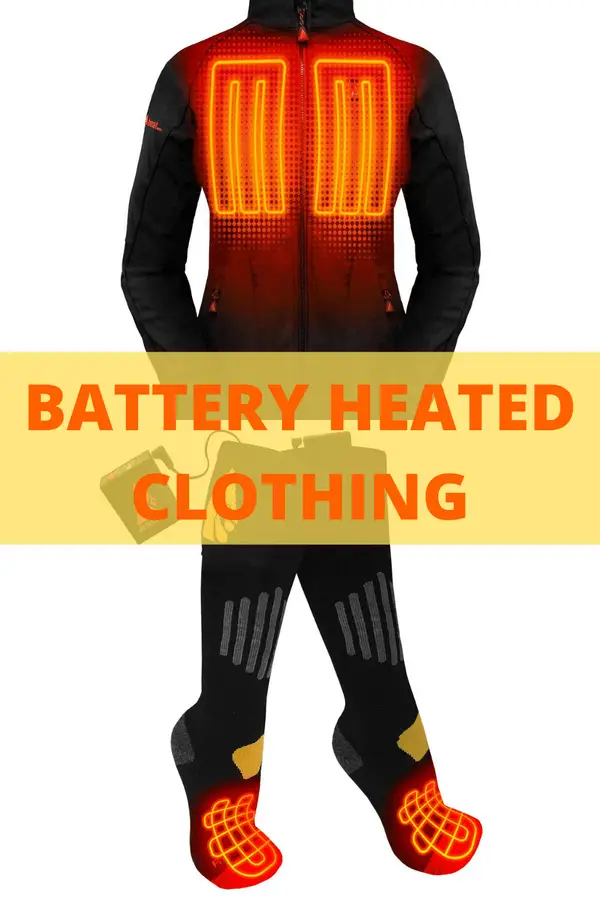 Battery Powered Heated Clothing Reviews