In this article you will find out how to clean the interior of your car using the best automotive steam cleaner.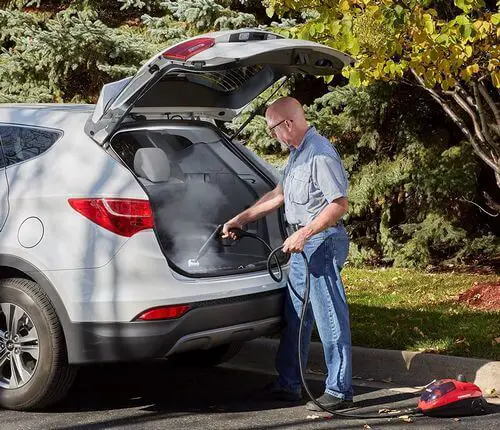 Introduction
Using just pressurized, high temperature water steam, this small auto wash machine cleans dirt, grime and grease from upholstery, leather, carpets, dashboards, windows and wheels.
The SteamMachine cleaner disinfects 99% of all germs and bacteria. And the best part is that it leaves behind no chemical residue.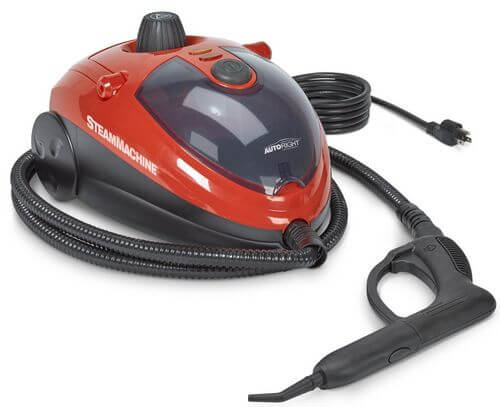 This machine is compact and portable and thanks to the wheels it follows you as you clean. The built-in carrying handle allows you to easily transport it.
Here is a video demonstration:
AutoRight SteamMachine Cleaner
How to Use
So let me walk you through how to get started with the best auto interior steam cleaner.
First let me tell you what comes inside the box.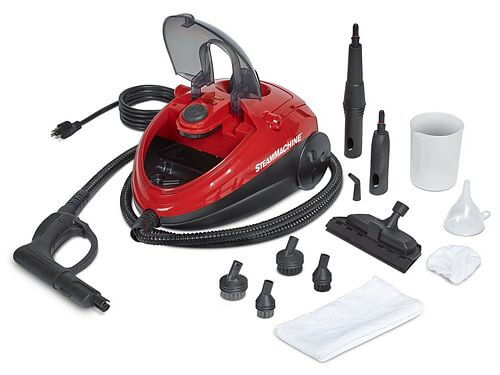 You've got the manual which you do not want to throw away because it includes lots of useful information.
There is, of course, the machine (with 8 ft. steam hose) which is so cute and it's red. It's awesome!
Then there are a little funnel to help you put the water in the steamer, a measuring cup and a couple of microfiber cloths. One of them is stretchy and you hook it around some of the attachments.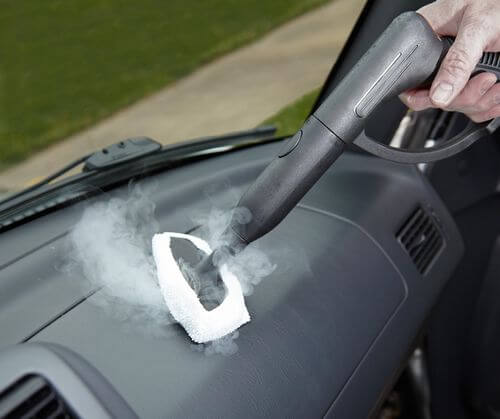 The thing that you need and that is not included in the box is distilled water. This is very important because of the way that the machine works. If you use tap water, it is going to build up some mineral deposits. This is very difficult to clean later. So just buy 88 cents gallon of distilled water.
The 1500-Watts unit delivers up to 290°F of steam, using 55 psi of pressure.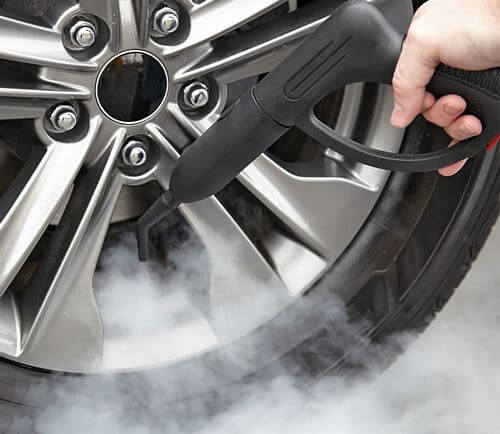 To get started, you want to plug in the machine to an extension cord. Remove the safety cap and add the water to the steamer. The tank holds up to 40 oz. (1200ml) of water. This will give you 35-40 minutes of continuous steam cleaning.
The manual says that you need to add whatever tip you're going to use before you turn the machine on.
Take the straight adaptor. Do not confuse it with the crevice tool; this one is longer and it is an attachment all of its own and it's used to get in between your seats.
The straight adaptor is the attachment that helps all of the attachments hook on. So it is the main one you're going to use. Attach it to the steam gun nozzle. It snaps in place with the button. All other attachments can slide right on it.
After that, you just press the big ON button. The red power light and orange steam light should both illuminate. They're both going to stay on until the steam has built up. It takes about 8 minutes to warm up and build up pressure. When the orange light turns off, the machine is ready to use.
One thing that I did not expect to find in the box was a squeegee attachment. It means you can clean your car's windows to break up dirt and bug residue. It sprays the steam and squeegee at the same time.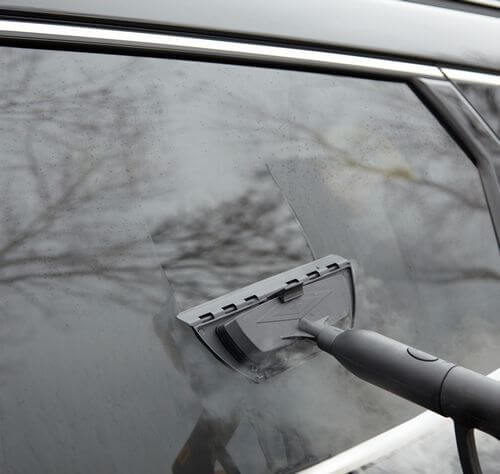 The glass shouldn't be below 32 degrees because it may break.
If you clip a piece off the squeegee attachment, you get an upholstery attachment. That's one time that you can slide your stretchy, microfiber cloth on and clean your upholstery with that.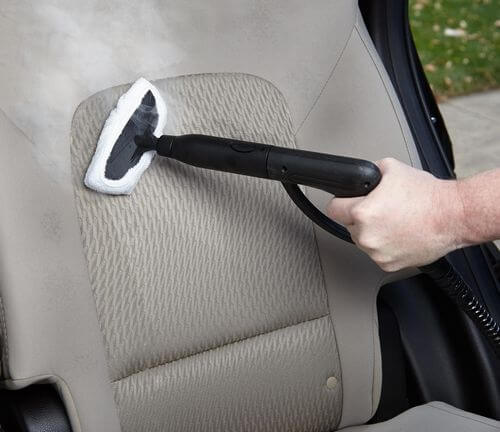 The best auto interior steam cleaner comes with four nylon brushes. Bigger ones and smaller ones. Small brush is used to get easily into lots of nooks and crannies. Bigger brush is for wider areas.
Two of these are hard bristle brushes and you are going to uses them for cleaning vinyl, plastic or metal. The other two are soft bristle brushes and they are for softer things like leather or upholstery.
You are also going to find a tiny jet nozzle and it's going to help you get inside of very small spaces and gaps between molded parts.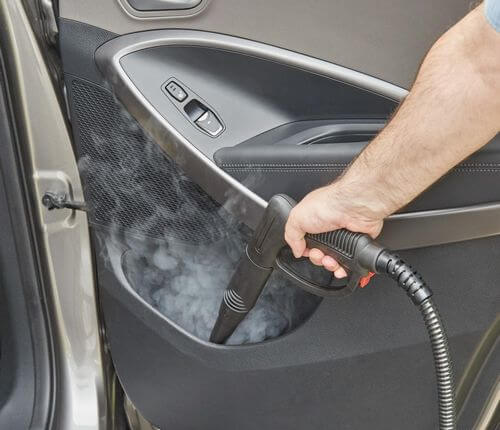 The car wash machine has a built-in compartment where all of the parts can be stored.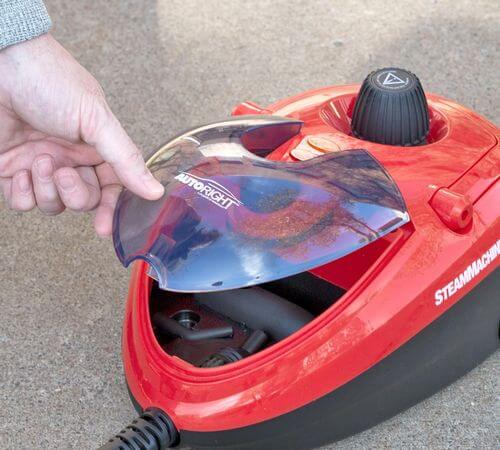 When you are ready to use the car wash machine, you want to squirt it outside of your car for a little bit to get that water out before the steam appears.
It's hot, so make sure you don't point it in anyone!
Because of how hot the steam is, it's also sanitizing at the same time that it's cleaning.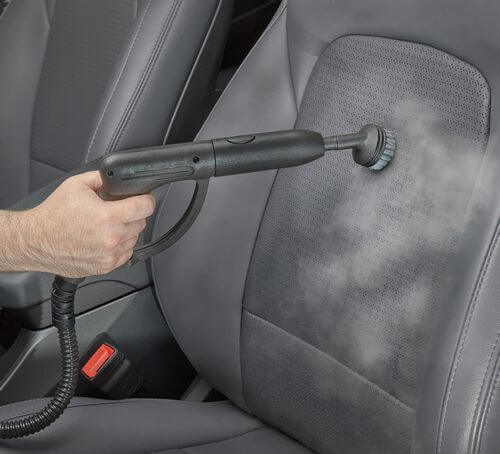 Another thing to keep in mind while you're cleaning with the steamer is that there's hot steam coming out the whole time that you're pulling the trigger. Because of this, don't leave it in one place, you could melt whatever you're cleaning.
Move it around, don't just hold it still so you don't damage the material that you're trying to clean.
You can lock the trigger to provide continuous steam to reduce hand fatigue.
When you are done cleaning your car, release all remaining steam from tank. You also need to drain any remaining water from the tank. You should never store the machine with water in the tank.
Final Words
This unit will not only loosen and dissolve dirt, cut grease and grime and expel stains.
It will also keep your leather seats shiny, remove unwanted odors from the upholstery of your cloth seats.
The steamer will clear away everything from carpeting and floor mats that your shoes drag in.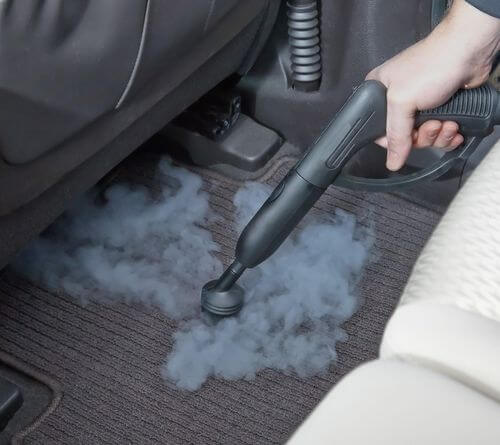 I also noticed that the steam can revitalize the seat cushions.
The good thing about this steamer is that it's versatile and you can also use it indoor for household cleaning. As a matter of fact, this car-detailing machine is better than most house steamers. This thing can blast through decades of gunk built up on your furniture in mere seconds.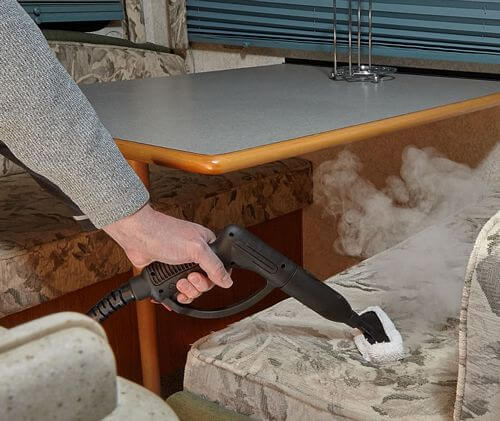 The only complaint I have about this product is that indicator lights are not bright enough when the unit is used in a bright place.
I can detail an entire car (both inside and out) only having to refill the water once. It took out every stain I found.
If you're looking for an easy way to clean your car, look no further! The AutoRight SteamMachine will make your automobile look brand new and smell fresher.
Click the button below to buy the product with lifetime guarantee.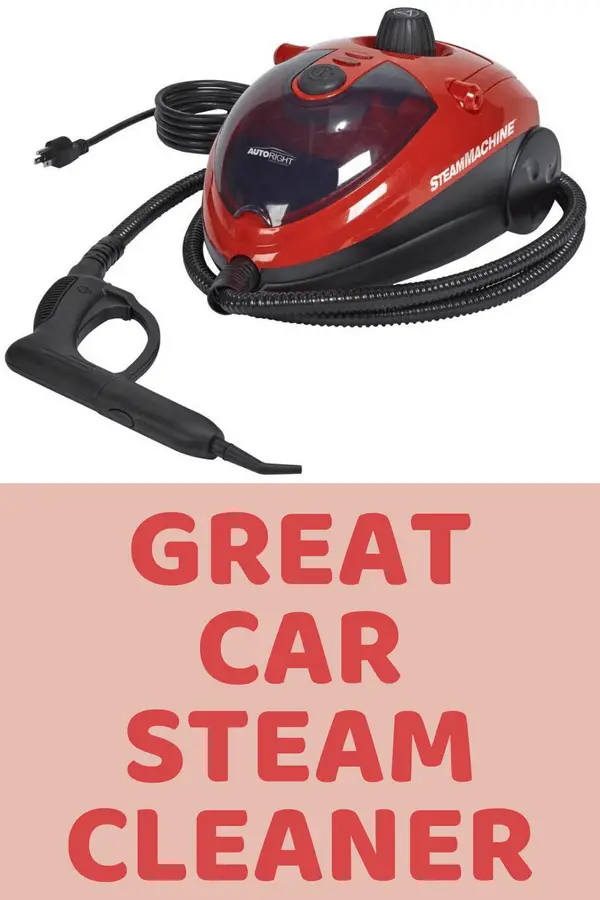 See also:
Best Auto Interior Steam Cleaner Review (High Pressure Rate)